Keep up with happenings at IU Credit Union.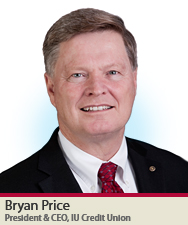 A Message from the President
We are pleased to report that 2021 was another extraordinary year for IU Credit Union. Despite the challenges of the pandemic stretching into a second year, IU Credit Union provided significant value to our members while achieving outstanding financial results.
Key accomplishments in 2021 included upgrading our ATMs; developing a contact center strategy to improve member accessibility and service solutions; streamlining our indirect auto loan processing; and launching Zelle in our Mobile Banking app. Other notable highlights included reunification of staff and departments separated since the onset of the pandemic; utilization of our new Operations Center; and the addition of 14 Indiana counties to our field of membership.
In 2021 we recognized our 65th anniversary as a financial cooperative. We celebrated this milestone with special promotions and opportunities to give back to our members and the communities we serve.
IU Credit Union has an unwavering commitment to community involvement and support. We are proud to annually provide more than $280,000 in sponsorships and financial contributions. Through our scholarship program, we awarded $30,000 in financial assistance to college students. Additionally, IU Credit Union and its employees contributed $40,000 to the local United Way Campaign and received the Community Builder Award in recognition of our ongoing support.
We thank our members for voting IU Credit Union as "Best Bank/Credit Union" in the Herald-Times Best of Btown for the fourteenth year!
IU Credit Union achieved impressive financial results in 2021. Total retail loan balances increased $23 million. We remained a leader in real estate lending and originated a record $164 million in mortgage products. Total real estate balances increased $44 million, our largest annual dollar increase. Total business loan balances increased $26 million. Combined, these results produced loan growth of $48 million, with total loan balances increasing to $972 million.
Total share balances increased $157 million, our second highest annual dollar increase. Net income in 2021 was $15 million.
Total assets increased $169 million, or 12.5%, to $1.5 billion. Net worth, a key indicator of safety and soundness, was $175 million, or 11.6% of total assets. IU Credit Union remains well positioned for continued strong financial performance.
IU Credit Union Investment Services acquired $24 million in new investments and continues to serve as a trusted provider of professional and personalized investment services.
We are proud of our entire IU Credit Union team, from our dedicated Board of Directors and Supervisory Committee, to back-office employees who ensured processes ran smoothly, and our frontline staff who were committed to serving our members throughout the pandemic. The collective and tireless efforts during the pandemic have been truly inspiring and we are deeply appreciative.
Looking ahead to 2022, we will continue to meet the needs of our members and community. Key objectives include completing a digital marketing audit and strategy; implementing a chatbot function on our website; conducting an analysis of artificial intelligence solutions; introducing a new low rate credit card; and continuing our commitment to sustaining strong communities.
On behalf of our Board of Directors, senior leadership team and our employees, we thank you for your membership and continued confidence in IU Credit Union. We look forward to serving you.
"We are proud of our entire IU Credit Union team, from our dedicated Board of Directors and Supervisory Committee, to back-office employees who ensured processes ran smoothly, and our frontline staff who were committed to serving our members throughout the pandemic. The collective and tireless efforts during the pandemic have been truly inspiring and we are deeply appreciative."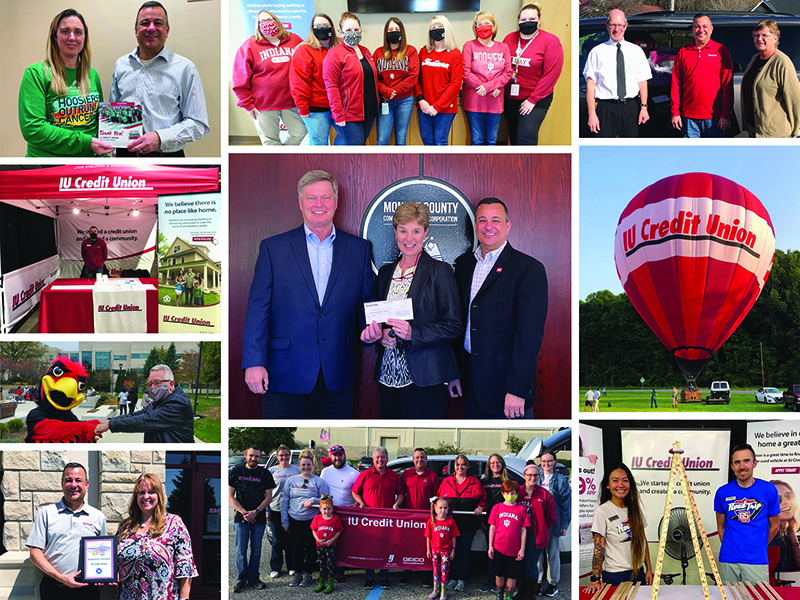 From left to right, top to bottom: 1. IUCU SVP, Marketing & Business Development, David Sipes, accepts a token of appreciation for IUCU's sponsorship of Hoosiers Outrun Cancer; 2. Whitehall branch employees celebrate IU Day; 3. Salvation Army Captain Gordon Hoag, and Salvation Army Social Services Director, Monica Clemmons pick up IUCU's donations for the Coats for Kids and Those in Need Clothing Drive from IUCU SVP, Marketing & Business Development, David Sipes; 4. 17th Street Branch Manager, Colby Babbs, is ready to talk mortgages at the BASCI Home Show; 5. IUCU President & CEO, Bryan Price, and IUCU SVP, Marketing & Business Development, David Sipes, present a $5,000 donation to Cyrilla Helm, Executive Director of the Foundation of Monroe County Community Schools; 6. The IUCU hot air balloon prepares for take-off; 7. Gary Branch Manager, Doug Achterhof, never misses a photo op with IU Northwest's mascot, Rufus the Redhawk; 8. IUCU SVP, Marketing & Business Development, David Sipes, and IUCU Marketing Manager, Karen Earley-Mullis, accept a plaque from the City of Bloomington Parks and Recreation for stepping up to become the presenting sponsor for the City's Independence Day Reverse Parade; 9. IUCU employees prepare to walk in the IU Homecoming Parade; 10. 17th Street Branch Manager, Colby Babbs, and Eastland Assistant Branch Manager, Lani Nguyen, pass out IUCU yardsticks at the Monroe County Fair.
Scholarship Recipients
IU Credit Union would like to congratulate its Continuing Student Scholarship recipients. The 2021-22 Ivy Tech recipients and 2022-23 IU recipients were honored at IUCU's Annual Meeting on March 30th.
Each year, IUCU awards scholarships to high school seniors who intend to enroll in an accredited university or college, and continuing college students who are currently attending Indiana University or Ivy Tech. This year, we are offering a total of $33,000. The deadline for high school scholarships was April 2 and recipients will be announced next month.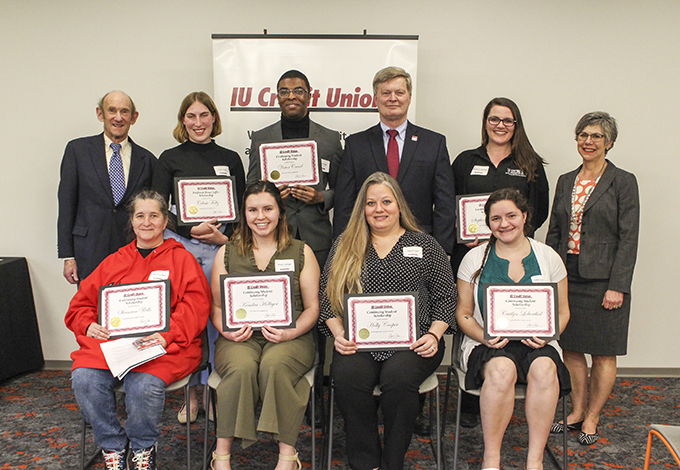 Back row, left to right: IUCU Director Emeritus, Bruce Jaffee, Celeste Foltz, Victor Creed, IUCU President & CEO, Bryan Price, Stephanie Michael, IUCU Board Chair, Kim Milford.
Front row, left to right: Shannon Walls, Kendra Holliger, Holly Cooper, and Caitlyn Lobenthal.

Indiana University 2022-2023
Graduate Full-Time - $2,500 Award
Victor Creed, Public Administration
Kendra Holliger, Dentistry
Graduate Part-Time - $1,250 Award
Julie Wasserman, Master of Library Science
Undergraduate Full-time - $2,500 Award
Audia Anders, Human Biology
Isaac Leichty, Economics/Germanic Studies
Marynancy Mwakalindile, Cognitive Science
Jackson Taylor, Astronomy/Physics/Math
Ivy Tech Community College Fall 2021
Full-time - $840 Award
Caitlyn Lobenthal, Healthcare Specialist
Stephanie Michael, Kinesiology/Exercise Science
Laura Wayne, Nursing
Part-time - $450 Award
Korey Guess, Business Administration
Ivy Tech Community College Spring 2022
Full-time - $840 Award
Christopher Miller, Liberal Arts
Allyson Oveson, Nursing
Shannon Walls, Elementary Education
Part-time - $450 Award
Professor Bruce Jaffee Scholarship
$5,000 award
Celeste Foltz, Information Systems/International Business
Holiday Closings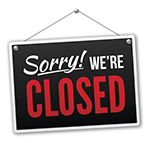 All branches of the IU Credit Union will be closed for the following upcoming holidays.
Memorial Day — Closed Monday, May 30th
Juneteenth — Closed Monday, June 20th
Independence Day — Closed Monday, July 4th
Remember that your debit card, Online Banking and Mobile Banking are available 24/7. In addition, you have surcharge-free access to your account at thousands of ATMs nationwide in the CO-OP and Alliance One ATM networks.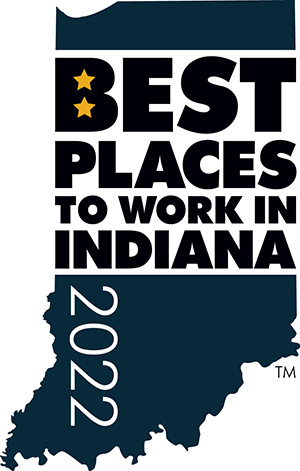 IUCU Named Best Place to Work in Indiana
IU Credit Union was recently named as one of the Best Places to Work in Indiana. This 17th annual program was created by the Indiana Chamber of Commerce.
The statewide survey and awards program is designed to evaluate participating organizations and honor those with the highest levels of employee satisfaction and engagement in the workplace. This year's list is made up of 125 companies.
To be considered for participation, companies had to fulfill the following eligibility requirements:
Be a for-profit, not-for-profit business or government organization
Be a publicly or privately held organization
Have a physical operation in Indiana
Have at least 15 full- or part-time permanent employees working in Indiana
Have been in business for at least one year, at the program registration deadline.
Companies from across the state entered the two-part survey process to determine the Best Places to Work in Indiana. The first part consisted of evaluating each nominated company's workplace policies, practices, philosophy, systems and demographics. This part of the process, the Employer Assessment, was worth approximately 20% of the total evaluation. The second part consisted of an employee survey to measure the employee experience. This part of the process, the Employee Feedback Survey, was worth approximately 80% of the total evaluation. The combined scores determined the top companies and the final rankings. Workforce Research Group managed the overall registration and survey process in Indiana, analyzed the data, and determined the final rankings.
The final rankings will be announced at an awards ceremony on Thursday, May 12, 2022, and then published in the Indiana Chamber's BizVoice® magazine after the event.
Click here for more information on the Best Places to Work in Indiana program.
Calling All 2022 High School Graduates!
High School Employment Fair • Tuesday, April 19 - Wednesday, April 20
The Greater Bloomington Chamber of Commerce's Success School will be hosting its annual High School Employment Fair at 3 local high schools.
Local organizations from all sectors will be available to discuss their job opportunities for current high school students and soon-to-be high school graduates at this event. IU Credit Union will have a booth at all three locations and we are specifically interested in speaking to upcoming high school graduates.
The fair will be held over two days at the following local high schools:
April 19th, 10am - 12pm — Edgewood High School
April 20th, 11:30am - 1:30pm — Bloomington High School North
April 20th, 3:15pm - 4:15pm — Bloomington High School South
We're Hiring Tellers/Member Service Representatives!
Our Tellers/Member Service Representatives play a key role in our company and are the face of IU Credit Union in the communities we serve. Member Service Reps build lasting relationships that help us know our members and how we can best help them succeed.
A career at IU Credit Union can take many different paths and an entry-level position can lead to opportunities in branch management, administration, account & card services, accounting, business lending, compliance, consumer lending, contact center operations, human resources, investment services, information technology, mortgage lending, risk management, training and marketing. We offer ongoing professional development opportunities, and we have a long history of promoting within the company.
IU Credit Union blends leading-edge business practices with a family atmosphere. We take pride in our Best Places to Work in Indiana and Best Places to Work in Bloomington designations, and in being voted Bloomington's Best Financial Institution for fourteen years. Please visit our Career Page to learn why we think you will love working here.
Some highlights of IUCU's generous benefit package include:
Affordable health insurance (medical, dental, vision, prescription, Teledoc)
Tuition reimbursement up to $3,200 annualy
Paid time off, including 20 paid vacation/holidays your first year
Outstanding 401(k) contribution
Ongoing professional development opportunities throughout the year
Company-paid mental health offerings (in-person and virtually)
Up to $250 reimbursement for diversified wellness options including wearables and monitoring devices
Annual performance incentive
Company-paid life insurance
Click here for additional career opportunities
Show Your School Spirit With A High School Debit Card!

Show off your school spirit with an official high school spirit debit card! These FREE cards are available at all Bloomington branches. The best part? Each time a high school card is used, we will make a contribution to the Foundation for Monroe County Community Schools. The more the cards are used, the greater the total contribution to our local school system!
See our Mortgage Team at PrimeTime Business Expo

The Greater Bloomington Chamber of Commerce's PrimeTime Business Expo event will be held at the Monroe County Fairgrounds on Thursday, April 21 from 5:00 to 8:00 PM.
PrimeTime is three events tied into one - a business expo, where Chamber members can set-up tables and booths with information and merchandise to engage community and Chamber members; the monthly Business After Hours, where Chamber members can network and interact, and; a fun and friendly food contest, with samples for everyone. Be sure to stop by the IUCU booth and chat with our Mortgage Team!
Fraud Alert: Common Scams That Target the Elderly
Sadly, some dishonest people have focused their attention on senior citizens. Taking advantage of fear, hope, and trust, these scammers defraud thousands of older Americans each year out of much needed cash. If you receive a call, letter, or a personal visit from anyone claiming the following, chances are you've been contacted by a rip-off artist.
"You need a new roof"
Many cons target older Americans because so many seniors are homeowners. It usually begins with a spontaneous visit from a "contractor." He/she will offer a special repair deal for seniors, a free inspection, or he/she noticed something terribly wrong with your home that needs urgent attention. If you take the bait, you'll likely be charged exorbitant fees to fix something that needs no fixing, the job will be done shoddily or not at all, or the price of the repairs will increase dramatically in the middle of the job.
Before hiring someone to work on your home, ask to see his contractor's license number and check it with your state's Contractors License Board. Get at least three other bids before making a final decision.
"I can get you a loan for that new roof"
If you need to finance those home repairs (or pay for property taxes, medical expenses, etc.), watch out for predatory lenders who target older Americans. These businesses have a way of finding cash-strapped homeowners, offering home equity loans that come with outrageously high interest rates, unnecessary fees, and unreasonable repayment terms. Be extremely suspicious of loans that are marketed to people with bad credit, offers that are only good for a very short time, telephone applications, next-day approval with an immediate payment, or having to pay upfront fees to cover the first payment and other expenses.
Avoid doing business with sales people who initiate contact: reputable lenders rarely solicit business over the phone or in person. If you really need a loan, contact your financial institution.
"We can fix your bad credit"
Preying on many seniors' desire to maintain good credit, some scammers promise to erase negative items from a report—for hundreds of dollars. However, no matter what the company advertises, bad credit cannot be magically transformed into good credit. The only real way to improve your credit rating is through time and effort: pay what you owe; keep your balances down; and use credit responsibly.
The cost of real "credit repair"? Free.
"You're a winner!"
Get a call or a letter saying that you have won a prize, but in order to claim it you need to send money to cover a shipping or handling fee, or pay for taxes upfront? Nonsense. You don't have to pay for something you've won. As much as you want to believe that Lady Luck has finally paid you a visit, with an offer like this she probably hasn't.
To be a real winner, toss this "award" in the trash.
"I can help you recover your loss from the win that never was"
A particularly vile scheme is one that targets seniors who have already been swindled. Called recovery scams, a con typically poses as a government agency representative who is working on your case. A large sum of cash (which must be wired or sent to him immediately) is needed to conduct the investigation. To earn damaged trust, he may even provide phone numbers for the Better Business Bureau or other consumer agency (which are false, of course). Oh, and how did he/she know you had been ripped off? He/she either bought your information from the con that took your money, or was the original swindler.
Remember, no genuine FBI agent, police officer, or any other law enforcement agent will ever ask for payment to do their job.
"I want to help you pay your bills"
Or do they want to help themselves to the money in your checking and savings accounts? Certainly some seniors need assistance managing their financial affairs. If you do, be highly selective with the person you choose to help, particularly if he or she suggests (or leads you into suggesting) becoming a joint account holder. That person will have as much power as you do to withdraw funds, and can arrange to inherit every dime in the account at your death.
Get professional, objective legal advice before letting anyone have this kind of power over your finances.
"This seminar will change your life"
Yes, it probably will—by making you a lot poorer. If someone you don't know invites you to attend an investment or estate-planning seminar (often with a prize just for coming), stay home. These are often bogus operations that market heavily to retirees wishing to prepare their estate or increase a fixed income stream. Slick-talking salespeople convince attendees to divulge personal information that they will later use, or sell expensive but worthless products and services.
The bottom line
If you would like to take a class, go to your local community college or university; if you need investment advice, visit a reputable financial institution or brokerage house; and if you want to set up your estate, see an attorney.
Before doing business with anyone, contact the Better Business Bureau to verify that they are legitimate. If you've been scammed, report the crime to the police and the Federal Trade Commission. Nobody enjoys admitting they've been taken, but it is important to take action to stop these people and companies—before they cheat other senior citizens out of a lifetime of earnings.
Resources
Better Business Bureau
703-276-0100
www.bbb.org
Federal Trade Commission
877-382-4357
www.ftc.gov
Join us at the Rock the Block Run in Greenwood
Rock the Block is a timed 10K, family-friendly 5K walk/run, and a free Kids Run. The event includes scenic courses, food, music, vendors, awards and giveaways — guaranteeing fun for everyone!
Proceeds benefit area trail projects and organizations serving youth and families of the Center Grove School Corporation area and Johnson County. Register to Rock the Block with us!
The event will take place at Center Grove High School on Saturday, April 23, with the 10K race beginning at 8:35 AM, and the 5K and Kids Run to follow.
April is Youth Month — And We're Giving Away Money!

Every April, National Credit Union Youth Month serves to encourage kids to develop healthy saving habits by making savings fun and exciting. Providing financial education embodies the credit union movement's 'people-helping-people' philosophy. The theme for this year's Youth Month is "Save Small. Dream Big. at your credit union™."
To celebrate our youth, we're giving away three $75 gift cards to our M3 Money Club and Elements of Money members*, one in each age group listed below:
Coloring contest for ages 6 and under:
Write your name and age at the top of the page.
Have an adult take a picture of your page, find IU Credit Union on Facebook or Instagram and send us a message with the picture or email it to Marketing@iucu.org.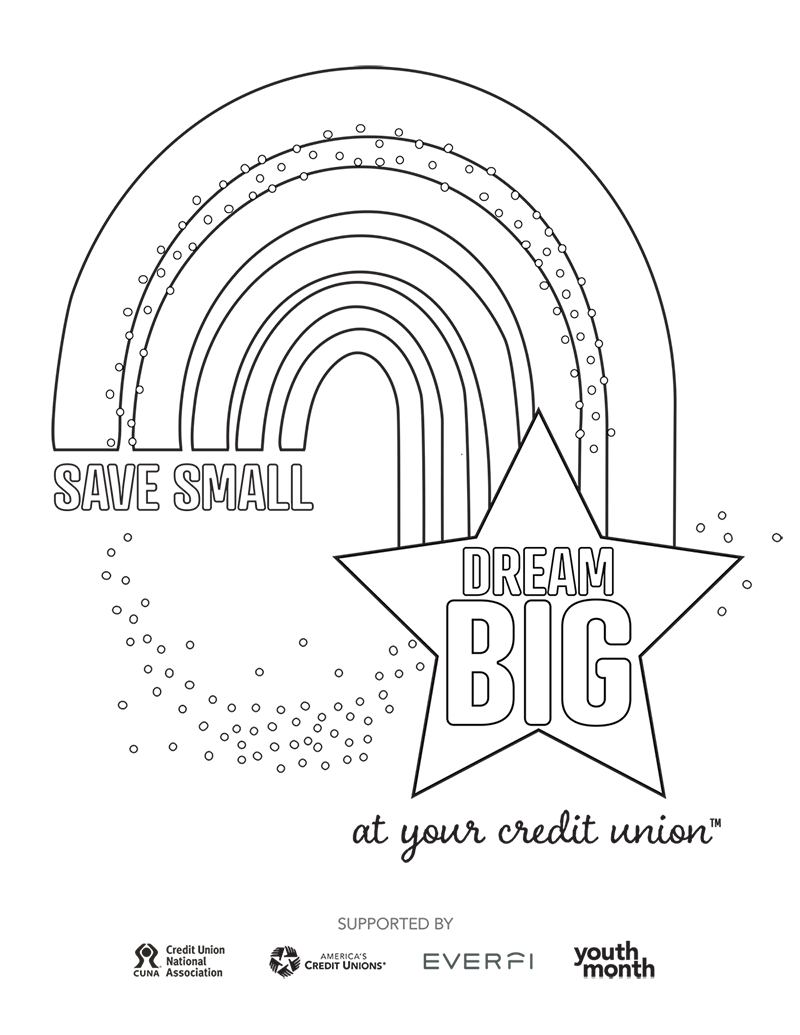 Art contest for ages 6 to 12 years old:
Create your own masterpiece with crayons, paint, fabric, clay, or any medium of your choice and illustrate this year's theme of "Save small. Dream big. at your credit union."
Have an adult take a picture of your artwork (include your name and age somewhere in the photo), and submit it to us by finding IU Credit Union on Facebook or Instagram and sending it in a message or emailing it to Marketing@iucu.org.
Video contest for youth members 13 to 18 years old:
Record a one-minute (or shorter) video clip answering the question, "Why is it important to always have money in a savings account?"
Either you or an adult may submit your video by finding IU Credit Union on Facebook or Instagram and sending it in a message. Be sure to include your name and age in the message.
Essay contest for youth 13 to 18 years old:
Write a 300-word (or less) essay, answering the question, "Why is it important to always have money in a savings account?"
Either you or an adult may submit your essay by finding IU Credit Union on Facebook or Instagram and sending it in a message. Be sure to include your first name and age in the message.
*Entrants must have an IU Credit Union account with their name on it and may only enter in one category. We will verify winners information. Deadline for entries is midnight, April 30. Gift card winners will be announced on our Facebook and Instagram pages on Friday, May 6.
Lemonade Day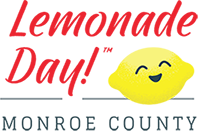 Lemonade Day Monroe County is coming on Saturday, June 18, 2022!
IU Credit Union is proud to be a Community Sponsor of Lemonade Day Monroe County. Lemonade Day is a fun, experiential learning program that teaches area youth how to start, own and operate their own business. You may even see a lemonade stand at some of our IU Credit Union branches on Lemonade Day!
Member Benefit: Discount Tickets to the Indianapolis Zoo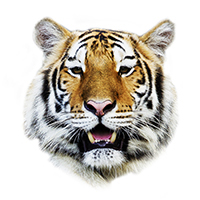 Spring has arrived and you may already be thinking about ways to enjoy the great outdoors. If the Indianapolis Zoo comes to mind, be sure to check out the discount ticket prices that are available to IU Credit Union members! It's easy with IU Credit Union's customized discount page—Enjoy flexibility and great prices!
Investment Services