In Your Interest
Keep up with happenings at IU Credit Union with In Your Interest, our quarterly member newsletter.
A Message from the President
We are pleased to report that 2017 was another outstanding year for the IU Credit Union. We implemented programs, services and products to enhance the member experience; maintained strong community support; and achieved numerous financial goals.
In 2017 we implemented a Skip-A-Pay program for consumer loans, enabled Apple, Samsung and Android Pay Mobile Wallet options, and introduced a new Cash Rewards Credit Card. Other notable achievements included launching surveys to measure member satisfaction, implementing a strategic plan developed to attract and engage millennial members and installing a new phone system to enhance member service through our contact center.
IU Credit Union annually provides more than $250,000 in community sponsorships and financial contributions. Our new Employee Volunteer Program encourages and supports employees who contribute time to causes important to them. IU Credit Union and its employees have consistently contributed $40,000 or more to the local United Way Campaign. And we were proud to be awarded the 2017 Community Builder Award from the United Way of Monroe County.
Through our annual scholarship program, $30,000 of financial assistance was provided to college students. We experienced record-breaking participation in the YMCAís Corporate Challenge with 125 employees, not only winning our division but being named Overall Champion for the first time.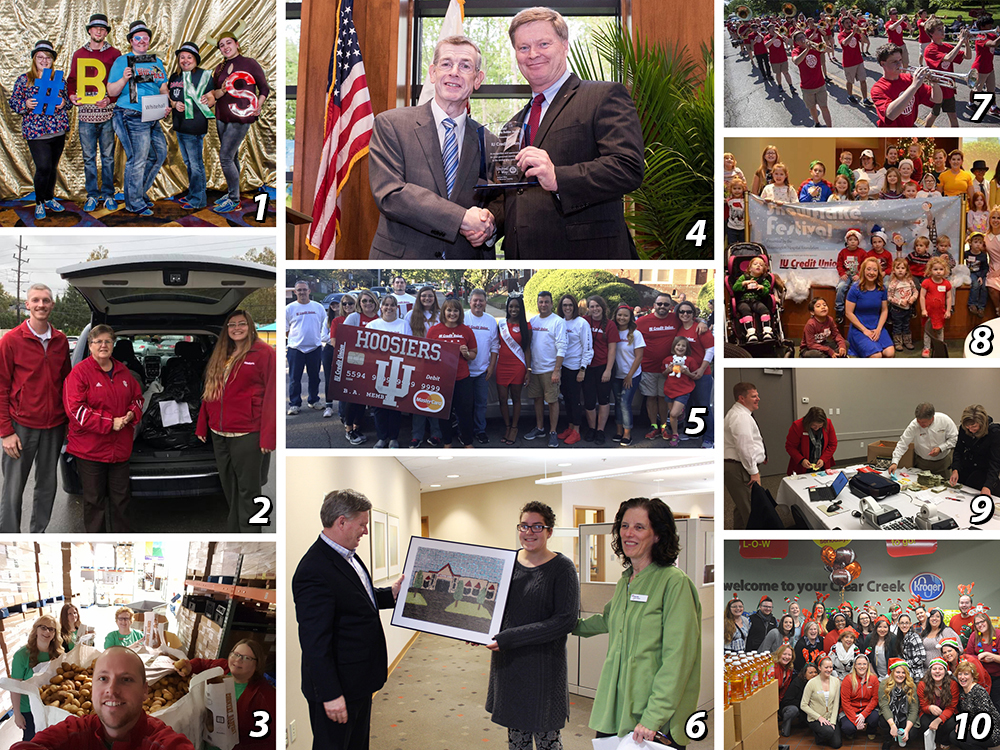 1. IUCU employees participate in Bowl For Kids' Sake; 2. IUCU collects coats for kids for the Salvation Army; 3. IUCU managers help out at the Hoosier Hills Food Bank during the 14th Annual Day of Service; 4. CEO, Bryan Price accepts the Community Builder Award from the United Way of Monroe County Executive Director, Barry Lessow; 5. Employees walk in the Indiana University Homecoming Parade; 6. CEO, Bryan Price receives an original artwork from artist Cheyenne Schlegel and CEO, Leslie Green of Stone Belt as a token of gratitude for our lasting dedication to the organization; 7. IUCU proudly sponsors the MCCSC High School Parade Band; 8. IUCU sponsors the Bloomington Hospital Foundation's Snowflake Festival; 9. IUCU counts the cash that was collected in the Salvation Army Red Kettle Kick-Off Campaign; 10. Our Member Service Support team makes a holiday donation to the Community Kitchen after their annual Supermarket Sweep competition.
IU Credit Union achieved impressive financial results in 2017. Auto loan originations were a record $115 million, increasing balances by $47 million, or 36%. We remained the leader in real estate lending, closing the highest number and amount of mortgages in Monroe County. Business loan balances increased by $20 million for the third consecutive year. Combined, these results produced record loan growth of $90 million with total balances in excess of $703 million. Our loan to share ratio increased to 87%, the highest in our history.
Total share balances increased $44 million, our second largest annual increase. Net income in 2017 was a record $10.4 million.
Total assets increased by $54 million, or 6%. Net worth, a key indicator of safety and soundness, surpassed $125 million, or 13% of total assets. IU Credit Union remains well-positioned for continued strong financial performance.
"Serving our members, each other and our community is at the heart of our organization. In 2018, as we approach $1 billion in assets, we will carry these principles forward."
IU Credit Union Investment Services acquired a record $26.8 million in new investments and continues to serve as a trusted provider of professional and personalized investment services.
Serving our members, each other and our community is at the heart of our organization. In 2018, as we approach $1 billion in assets, we will carry these principles forward. We will launch an internal knowledge management system to help us quickly share information across the organization; introduce low down payment mortgage options to better serve first-time home buyers; complete a credit card processor conversion to allow us to remain competitive; and continue to support the community with scholarships, sponsorships, donations and our presence at local events.
Since our founding in 1956, we have been led by outstanding volunteers who have served on our Board and Supervisory Committee. On behalf of our Board of Directors, we thank you for your continued confidence in IU Credit Union and we look forward to serving you in the coming year.
Scholarship Recipients & Annual Meeting Highlights
The IU Credit Union would like to congratulate its Continuing Student Scholarship recipients.
Each year the IU Credit Union awards $20,000 in scholarships to continuing students at Indiana University and Ivy Tech Community College. The applications consist of three short answer and one essay question, which are then judged by outside committees. This year, three graduate students and four undergraduate students from IU as well as three Ivy Tech students received scholarships. The award presentation took place at the Annual Meeting on March 28th.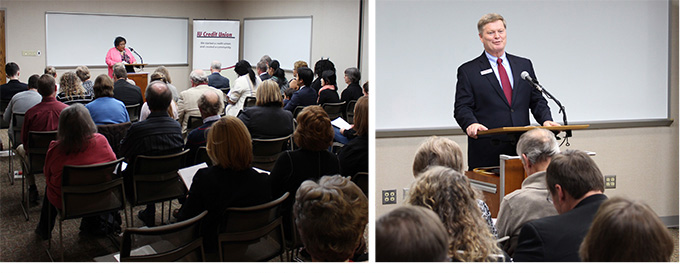 Left to right: Doris Sims, IUCU Board Chair, presided over the Annual Meeting; President and CEO, Bryan Price, delivers the Chair and Presidentís Report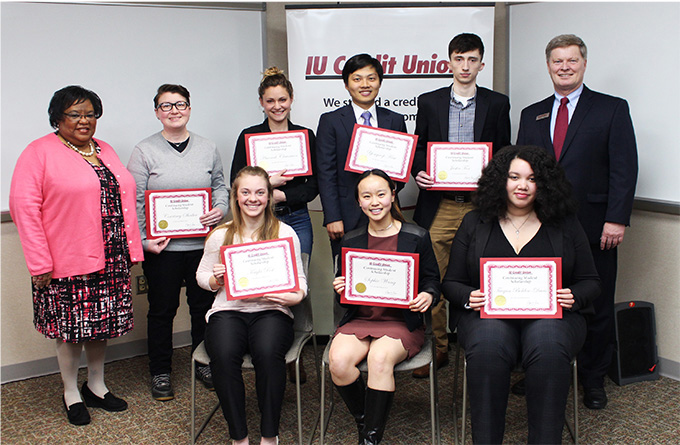 Back row, left to right: IUCU Board Chair, Doris Sims, Courtney Scheiber, Hannah Clausman, Yongseop Kim, Justin Fox, and IUCU President & CEO, Bryan Price.
Front row, left to right: Kayla Post, Sophie Wang and Taegan Bolden-Davis.
Not pictured: Nancy Goodrich, Kristi Schultz and Brooke Swope.
Saving on Home Renovations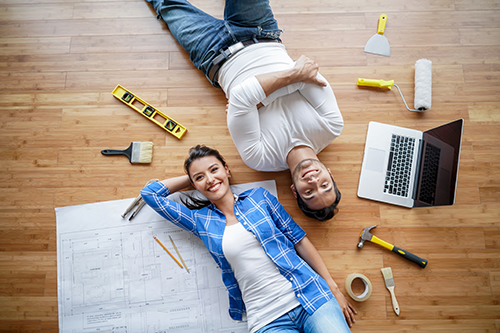 Is your kitchen in desperate need of a facelift? Bathrooms haven't been remodeled since Reagan was in the White House?
With the warmer weather approaching, many homeowners are thinking of making minor and major household improvements. And for most, the cost will be prohibitive: The average kitchen remodel tops $60,000 and a bathroom overhaul can run $18,000.
No worries, though! With some careful planning and smart choices, you can shave thousands off the cost of renovations.
Here are 7 terrific ways to save when remodeling:
Donít do a complete remodel
Itís tempting to want to go all out once youíre remodeling, but unless structural damage demands that a room or area be completely gutted, thereís rarely a reason to start from scratch. Instead of knocking down walls and hallways, try to envision the outdated area with a fresh coat of paint, new light fixtures and some minor dťcor changes.

Is your kitchen a total blast from the past? Instead of giving it an overhaul, consider replacing the drawer handles and knobs, staining the cabinets and refacing the moldings. Perfecting old cabinets can be a full 50% less expensive than putting in brand new ones.

Potential money saved: $30,000.
Shop around for a contractor
Choosing a contractor is not a decision to take lightly. Youíll want to find someone honest, professional and reliable Ė and willing to give you a decent price.

Donít hire anyone on the spot; check out at least three different contractors before making your decision. Ask for references and meet with each contractor in person to get a feel for their character and professional conduct. Take note of whether they show up on time and their willingness to answer questions. Doing these simple tasks will provide you with important clues about their reliability. Be sure to ask your prospective contractor if they generally stick to their schedules or tend to fall behind. In this business, time is money, and a delay in a projectís completion can cost you a pretty penny.

Finally, be sure to sign a detailed contract before making any final decisions. The contract should stipulate the final cost and estimated timeframe for the project.

Potential money saved: several thousand dollars.


Consider longĖterm costs and benefits
You donít want to choose the most expensive option for every remodeling decision youíre going to make, but it often makes sense to pay more now if itíll save you big further down the line.

For example, if youíre installing clapboard siding, youíll save in the long run by paying more for pre-primed and pre-painted boards. Using the more expensive prefinished claps means youíll need half as many paint jobs in the future.

Money saved: $1,250 (for a 10◊40 area)
Pick decent but midgrade materials
Choosing the cheapest materials usually ends up costing more in the future. But that doesnít mean go with the most lavish and expensive. In general, itís best to go with the midgrade option whenever possible.

One significant area where youíll see this at play is in carpeting. Basic olefin and polyester carpeting will run you $1 to $2 per square foot, while wool costs upward of $9 to $11 per square foot.

Money saved: $400 (for a 40-square-foot area).
Bring in natural light without windows
Looking to add a splash of sunshine in your kitchen? Donít cut that gigantic hole in the side of your house just yet! Adding windows is a major deal and there are other, less expensive ways of bringing sunlight into your home.

Instead, consider installing a ďlight tube.Ē This genius contraption slips between the rafters on your roof and works to funnel sunshine down and into the living space below.

Adding a double-pane window can run you $1,500, while a light tube is only $500.

Money saved: $1,000.
Lend a hand
You donít have to be super-handy to help out and save money at the same time. You can easily do some of the demolition work yourself, paint some walls or even sand the walls to prep them for painting. If you think youíre too clumsy for even these minor jobs, lend a hand with the cleanup at the end of a project. Why pay a cleanup crew $200 a day to sweep up sawdust when you can handle a broom just fine on your own?

Money saved: $200 a day or more.
Increase efficiency, not size
If you feel like your kitchen is too cramped and you need to push out some walls to make it work, think again. You can easily reorganize your kitchen for maximum efficiency and save tens of thousands of dollars.

Replace large, clumsy shelves with pullout drawers that are equipped with racks for easy, aesthetic storage space. Upgrade your cabinets with lazy susans, dividers, pullout trays and more. Consider hiring a professional organizer to show you how to maximize the space youíve got; the organizerís fee and the money youíll spend on the specialized cabinets will still fall way below the cost of an expansion.

Money saved: up to $60,000.

However you choose to go about your renovations, donít forget to call, click, or stop by IU Credit Union today to learn about our fantastic rates on Fixed Home Equity Loans and Home Equity Lines of Credit (HELOC)!
Holiday Closings

All branches of the IU Credit Union will be closed Monday, May 28th in observance of Memorial Day.
All branches will be closed on Wednesday, July 4th in observance of Independence Day.
Remember that your debit card, Online Banking and Mobile Banking are available 24/7. In addition, you have surcharge-free access to your account at thousands of ATMs nationwide in the CO-OP and Alliance One ATM networks.
Lemonade Day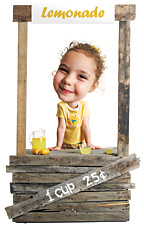 Lemonade Day Monroe County is coming on Saturday, June 16, 2018!

IU Credit Union is proud to be a Community Sponsor of Lemonade Day Monroe County. Lemonade Day is a fun, experiential learning program that teaches area youth how to start, own and operate their own business. You may even see a lemonade stand at some of our IU Credit Union branches on Lemonade Day! For all the details on Lemonade Day Monroe County, visit their website at https://lemonadeday.org/monroe-county or find them on Facebook (https://www.facebook.com/lemonadedaymoco/).
Greenwood Freedom Festival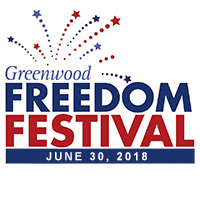 IU Credit Union will once again participate in the annual Greenwood Freedom Festival. The event, to be held on Saturday, June 30th in Craig Park, will feature a Freedom Jam, parade, food and booth vendors.
Get there early to see our group in the parade then stop by our booth so we can thank you for being a member!
Be sure to stay for the fireworks—this year, IU Credit Union is a sponsor of the KORN Country Musical Fireworks!
CU at the Fair!

IU Credit Union will be at the Monroe County Fair, Saturday, June 30th through Sunday, July 8th. Stop by so we can thank you for being a member. Chat with Credit Union employees and see what "fair" deals we can offer you!
Buskirk-Chumley Theater - Ticket Giveaway!
IU Credit Union is a proud sponsor of the Buskirk-Chumley Theater. We have a pair of tickets to give away for the following shows! To enter to win, send an email to marketing@iucu.org by noon on Monday, April 30th. Be sure to include your name in the email, along with the name of the show you would like to see in the subject line. If you choose to enter for A Jungle Adventure, please also specify the date and time you prefer. Good luck!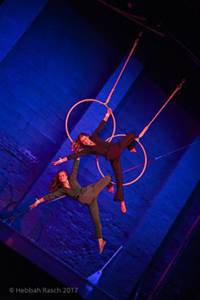 A Jungle Adventure, May 25th & 26th
From BCT's website: "Follow an intrepid explorer on an adventure through the jungle and discover wonderful and weird circus creatures. You will see animals fly through the air, swing from trees, tumble and flip. Our jungle explorer experiences many ups and downs and twists and turns along the way. There will be monkeys in a tree made of silk, birds flying on hoops, jumping and flipping frogs, spiders on webs, and jaguars on a trampoline. The Stage Flight Circus Arts studio will present aerial performances, feats of strength, and beautiful choreography. This performance will be filled with action, music, and lights to delight the senses and is suitable for all ages."
Showtimes: Friday, May 25, 6:30 PM; Saturday, May 26, 2:00 PM & 6:30 PM.
For more information, visit: https://bctboxoffice.org/event/a-jungle-adventure/
Mary Chapin Carpenter, June 18th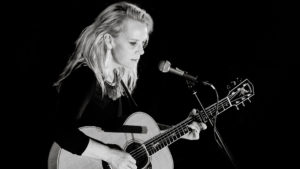 From BCT's website: "In celebration of her 30 year recording career, Mary Chapin Carpenter will release "Sometimes Just The Sky" on March 30 on Lambent Light Records via Thirty Tigers. The landmark record features new versions of twelve of Carpenterís most beloved songs as well as one newly written song, the title track. Produced by Ethan Johns (Ryan Adams, Paul McCartney, Ray LaMontagne), the album was recorded entirely live at Peter Gabrielís Real World Studios outside Bath, England. Joined by long-time collaborator Duke Levine on guitar and a handpicked band of Johnsí favorite musicians, Carpenter re-imagined one song from each of her twelve studio albums along with "Sometimes Just The Sky."
Showtime: Monday, June 18, 7:30 PM.
For more information, visit: https://bctboxoffice.org/event/mary-chapin-carpenter/
4th of July Parade Sponsorship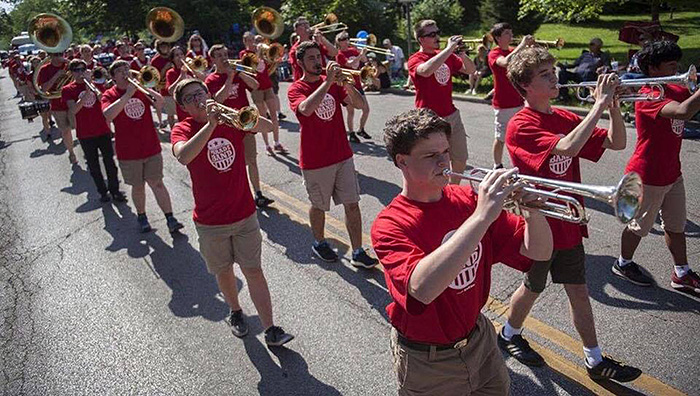 IU Credit Union is proud to sponsor the Community High School Parade Band. Each July 4th, students and alumni from Monroe County schools come together to march in the Bloomington Independence Day Parade decked out in IUCU colors. Thank you to all musicians, flag corps and directors who put their time and talent into making this event special!
Member Benefit: Discount Tickets to the Indianapolis Zoo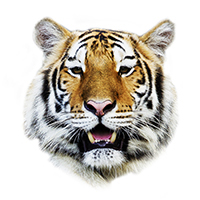 Spring has arrived and you may already be thinking about ways to enjoy the great outdoors. If the Indianapolis Zoo comes to mind, be sure to check out the discount ticket prices that are available to IU Credit Union members! It's now even easier with our customized discount page ó no more group sales code, no more username and password. Enjoy flexibility and great prices!
Investment Services