In Your Interest
Keep up with happenings at IU Credit Union with In Your Interest, our quarterly member newsletter.
IU Athletics Debit Cards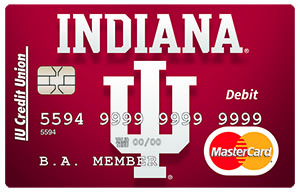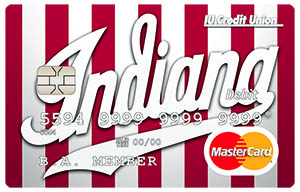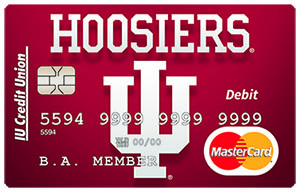 Show off your Hoosier Pride with a new IU Athletics Debit Card!
The cards are issued instantly at all Bloomington locations, as well as our Center Grove branch in Greenwood. Other branch locations will accept orders and the card will be mailed within a few days.
You can choose one of three designs for your debit card. They are available for only $10 and the cards are good for three years.
$30,000 in Scholarships Available

The IU Credit Union is offering scholarship opportunities to high school seniors and continuing Indiana University and Ivy Tech students. Applications can be found on our Scholarships page.
High School Scholarships
Up to $10,000 in High School scholarships are available for graduating seniors who intend to enroll full time at an accredited university or college. The amount of the scholarship is $1,000, which is split between the two upcoming semesters. High School applications must be postmarked by April 6, 2018.
Scholarships are available to graduating students from Bloomington North, Bloomington South, Center Grove, Edgewood, Eastern Greene, Greenwood, The Academy of Science & Entrepreneurship and Owen Valley.
There are also two available to members who attend a high school other than one of the aforementioned.
Continuing Student Scholarships
Up to $20,000 in Continuing Student scholarships are available for members planning to attend Indiana University or Ivy Tech as either full-time or part-time students. Award amounts are based on student status and the school that will be attended. Applications must be postmarked by February 9, 2018.
Click here to learn more about our scholarship program »
How To Protect Yourself From Identity Theft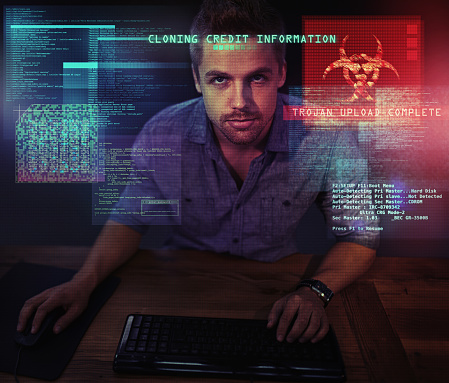 Chances are, you or someone you know has had their identity stolen at one point or another. It can be expensive, stressful and extremely complicated to recover from. Here are seven ways to help protect yourself and your most important data from identity thieves.
Secure Your Hardcopies
Most of us think of identity theft as a digital crime, but many thieves are just as eager to get their hands on your paper documents. While online accounts are password-protected, important paper documents are often left in a drawer or simply tossed in the trash, where dumpster-diving thieves can find them.

Whatís the solution? Buy a safe and a shredder. Whatís not shredded goes in the safe. Of course, the same level of care should go into protecting your physical credit cards. Donít put your wallet in your back pocket. Make it a habit to check to see you have all your cards and IDs when you get home at the end of the day. This will help you be aware of missing items earlier so you can cancel lost or stolen cards before too much damage is done.
Examine Your Financial Statements
Reviewing your financial statements is a good practice. Not only will this help you track financial habits, it will also alert you to any fraudulent charges. Credit unions and banks do a lot to protect consumers from fraud and identity theft, but only you know what you purchased and what you didnít, so look closely at those statements!
Choose Good Passwords
Many people have one simple password they use for all devices and platforms. This is convenient, but dangerous. Yes, there is reason to worry that having multiple hard-to-remember passwords may make it more difficult for you to access your own accounts, but potential identity thieves will have a more difficult time too.
Protect Your Computer
Malware is just one way identity thieves steal your data. Invest in a good and reputable antispyware program to make sure your hardware is safe from invaders.

Another way to protect your computer is to encrypt your hard drive. Apple computers and PCs alike will offer the option to encrypt all data in your hard drive. Go to your security settings and choose to activate the encryption option.
Be Aware of Suspicious Emails and Websites
If an email looks suspicious, it probably is. Make your email inbox a tightly curated collection. If you have too many promotional emails, start clicking the unsubscribe button. This will help you spot suspicious, unsolicited mails.

The same goes for websites. Your browser or antivirus software may try and warn you about suspicious websites before you enter them. Donít disregard those warnings.
Use Two-Factor Identification
The most convenient option is not always the most secure, but given the choice between convenience and security, your best bet is the more secure one. Two-factor identification for email accounts and other important online accounts will add an extra step to the security process for log-ins, most often making use of your phone number as well.
Secure your Wi-Fi and Avoid Public Wi-Fi
Public Wi-Fi is often insecure and can be a great way for thieves to get to your data. Steer clear if you can. If you have no choice, be sure to avoid all online banking or password logins while using public Wi-Fi. Additionally, be sure to secure your own home Wi-Fi with a unique and hard-to-guess password.
Closed MLK, Jr. Day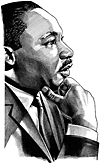 All branches will be closed Monday, January 15 in observance of Martin Luther King, Jr. Day.
Your debit card, Online Banking, Mobile Banking and Bank-by-Phone are available 24/7. Plus, you have surcharge-free access to your account at thousands of ATMs nationwide in the Alliance One and CO-OP ATM networks.
BOGO IU Women's Basketball Tickets
IU Credit Union is a proud sponsor of IU Women's Basketball!
Download your IU Women's Basketball BOGO coupon »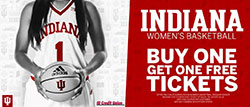 Coupons are valid for the following dates (Schedule subject to change):
| Date | Opponent | Time |
| --- | --- | --- |
| 1/6/18 | Purdue | 2:00 pm |
| 1/13/18 | Ohio State | 12:00 pm |
| 1/24/18 | Wisconsin | 7:00 pm |
| 1/27/18 | Rutgers | 1:00 pm |
| 2/4/18 | Northwestern | 12:00 pm |
| 2/8/18 | Illinois | 7:00 pm |
| 2/17/18 | Nebraska | 12:00 pm |
You're Invited to our Annual Meeting
This year's Annual Meeting will take place at the Winslow branch, Wednesday, March 28 at 5:30 p.m. Meet Credit Union members and staff, and join us for the 2018-2019 scholarship presentation.
Board and Supervisory Committee Nominations
The IU Credit Union Nominating Committee has selected candidates for four open Board positions and one open Supervisory Committee position to be filled this spring. Nominees for the Board are Bruce Jaffee, Kim Milford, Larry Polley, and Emily Springston. The nominee for the Supervisory Committee is Roy Elkes.
IU Credit Union members can file a petition to be included on the election ballot for the Board of Directors or Supervisory Committee. To qualify, request the appropriate petition from any branch, obtain 500 member signatures, and return the petition to any branch by February 9, 2018. If no petitions are received by the due date, the Nominating Committee's candidates will be appointed.
Election results will be announced at the Annual Meeting, to be held on Wednesday, March 28 at 5:30 p.m. at the Winslow Branch.
Members of the Board of Directors are responsible for establishing the strategic direction of the Credit Union, providing oversight of progress toward the organization's goals, and carrying out fiduciary responsibilities customarily performed in accordance with federal and state regulations.
The primary objective of the Supervisory Committee is to determine that members' assets are adequately safeguarded. Members of the Board and Supervisory Committee volunteer their time to the Credit Union.
Board Nominees
Bruce Jaffee has served on the IU Credit Union Board since 1978 and has held all offices, including Chair of the Board. Jaffee is an Emeritus Professor of Business Economics and Public Policy at the Indiana University Kelley School of Business. During his tenure at IU, he served as Associate Dean for Academics, Chair of the Department of Business Economics and Public Policy, Chair of Doctoral Programs in Business, Executive Director of the Institute for International Business, and as the Faculty Athletic Representative. He currently serves on the Bloomington Faculty Council and chairs the benefits committee of the IU Retirees Association. Jaffee holds a bachelorís degree from Brown University and an M.A. and Ph.D., both in economics, from Johns Hopkins University.
Kim Milford is the Executive Director of the Research and Education Networking Information Sharing and Analysis Center (REN-ISAC) at Indiana University. In addition to her role at IU, Milford speaks on cybersecurity, information policy and privacy expertise at national conferences, seminars and workshops. She has served in several different roles since joining IU in 2007, including Chief Privacy Officer. Milford has also served as the Information Security Officer at the University of Rochester, and Information Security Manager at the University of Wisconsin-Madison. She received a B.S. in accounting from Saint Louis University and a J.D. from John Marshall Law School in Illinois.
Larry Polley has served on the IU Credit Union Board since 2003 and has held all offices, including Chair of the Board. Prior to joining the Board, Polley chaired the Supervisory Committee for six years. He is the President and CEO of Financial Management Services Consulting and was previously the Controller of Dynamic Medical Practice Services. He held various positions at Indiana University for more than 20 years. Prior to his career at IU, he served as Corporate Controller for companies in Ohio and Indiana. Polley has a bachelor's degree from the IU Kelley School of Business and a master's degree from the IU School of Education.
Emily Springston has served on the IU Credit Union Board since 2012. She is currently Indiana University's Chief Student Welfare and Title IX Officer. Prior to that role, she served as an Associate General Counsel in IU's Office of the Vice President and General Counsel. Before coming to IU in 2008, Springston practiced environmental law for seven years at Sidley Austin, LLP in Chicago. Prior to law school, she worked at several national non-profit organizations in Washington D.C. focusing on anti-hunger and anti-poverty policy and advocacy. Springston received her B.A. in political science from Binghamton University in New York and her J.D. from IU's Maurer School of Law.
Supervisory Committee Nominees
Roy Elkes, CPA, has served on the IU Credit Union Supervisory Committee since 2012. He is currently a Professor of Accounting at Ivy Tech Community College. He served as Controller of the South Central Community Action Program for 15 years. Elkes is a member of the American Institute of CPAs and the Indiana CPA Society. He is the site coordinator for the Volunteer Income Tax Assistance program at Ivy Tech. He holds a B.A. in Russian language and history and an M.A. in history, both from Indiana University.
The IU Auditorium Presents...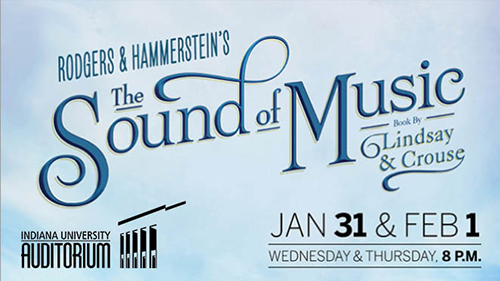 We're giving away a family four pack of tickets! The tickets will be for January 31 at 8:00 P.M. To enter to win, submit an email by January 23 to marketing@iucu.org with "The Sound of Music" as the subject. We will notify the winner on January 24. IU Credit Union is a proud sponsor of the IU Auditorium.
Important Tax Information
Tax statements for 2017 will be mailed by January 31, 2018. If you are enrolled in eStatements, be sure to check your eStatements & Notices tab in Online Banking for the following forms.
• IRA FMV Statement (Fair Market Value)*
This is an annual statement showing the December 31, 2017 balance of your IRA/ESA account. This information will be sent as a separate form. If you are 70 1/2 or older, your RMD (Required Minimum Distribution) will also be listed on this form.
• Form 1099-INT (Dividend Income)*
In most cases, IU Credit Union will issue 1099-INTs by Social Security number instead of account number. For example, if you have two different account numbers with the same Social Security number, you will only receive one 1099-INT reflecting the total dividends earned for both accounts.
You will only receive a 1099-INT if your total dividends earned in 2017 are at least $10.00.
• Form 1098 (Mortgage Interest Statement)
You will receive a separate 1098 for each mortgage loan at the IU Credit Union.
If the IU Credit Union pays your real estate taxes, the total amount paid in 2017 will appear on the 1098.
• Form 1099-R (Distributions from IRAs)
A separate form will be mailed for each IRA plan held at the IU Credit Union.
Each form sent will show the total distribution amount for 2017 from the IRA, regardless of whether the distribution is taxable.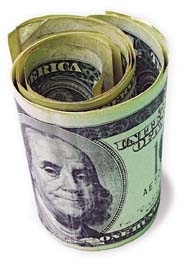 • Form 1099-Q (Distributions from Coverdell Education Savings Accounts—ESAs)
A separate form will be mailed for each ESA plan held at the IU Credit Union.
This form will show the total distribution amount for 2017 from the ESA. This includes rollover and transfer distributions.
• Form 5498 (IRA/ESA Contribution Information)
Form 5498 for Traditional IRAs, Roth IRAs and Coverdell ESAs will be mailed by May 31, 2018 due to the later (Apr. 17) contribution deadline.
• Form 1042-S (Foreign Person's U.S. Source Income Subject to Withholding)
Form for certain nonresident alien individuals used to report $10.00 or more in dividend income. The 1042-S form must be mailed by March 15, 2018.
Join Us at the Home Show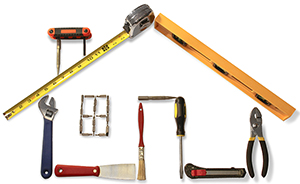 Visit our booth at the Bloomington Home Show, February 22nd through 25th. The event is held at The Warehouse at 1525 S. Rogers St. and features over 100 vendors and family activities. Be sure to check it out!
Investment Services