Community Matters
We believe community matters.
Community Programs | Board Designated Contributions | Scholarships | Sponsorships | Archives
Community matters. In fact, it matters a great deal to IU Credit Union since serving our community is at the heart of what we do. Community is not a buzzword or a feel good word for us. It's about what we do as individuals and as an organization to show what is important. We're passionate about the communities we serve, particularly in the areas of education and financial literacy.
We invite you to visit our website often to see firsthand the community matters the IU Credit Union participates in. We hope this site will serve as a resource about what is happening at IU Credit Union, community outreach initiatives, special promotions, and informative articles to help you make wise financial decisions.
IUCU "Day On, Not a Day Off"
Posted: January 20, 2014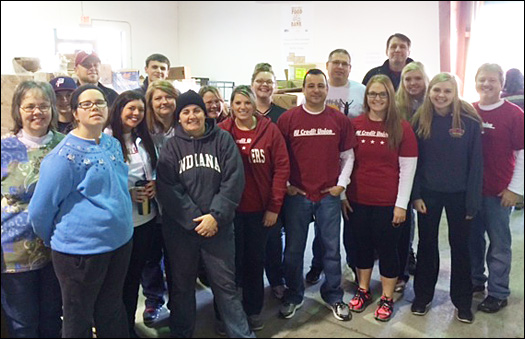 A team of IU Credit Union employee volunteers spent their Martin Luther King, Jr. holiday lending a hand at the Hoosier Hills Food Bank. Team IUCU did their part in helping to bag some 41,000 pounds of Red Delicious apples for distribution in Monroe and other counties served by the Hoosier Hills Food Bank.
If your group of volunteers would like to help out at the Food Bank, email Ryan at volunteer@hhfoodbank.org. You can also learn more about the 21st Annual Soup Bowl Benefit, Hoosier Hills Food Bank's fundraising event at www.hhfoodbank.org.
---