Community Matters
We believe community matters.
Community Programs | Board Designated Contributions | Scholarships | Sponsorships | Archives
Community matters. In fact, it matters a great deal to IU Credit Union since serving our community is at the heart of what we do. Community is not a buzzword or a feel good word for us. It's about what we do as individuals and as an organization to show what is important. We're passionate about the communities we serve, particularly in the areas of education and financial literacy.
We invite you to visit our website often to see firsthand the community matters the IU Credit Union participates in. We hope this site will serve as a resource about what is happening at IU Credit Union, community outreach initiatives, special promotions, and informative articles to help you make wise financial decisions.
IUCU Contributes $30k to the Boys & Girls Club of Bloomington
Posted: July 6, 2016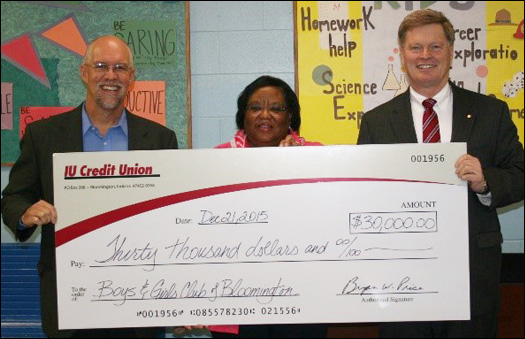 IU Credit Union has made a $30,000 contribution to the Boys & Girls Clubs of Bloomington for its BIG Futures Capital Campaign. The Campaign was launched in April to raise $6 million for renovations of the Club's Lincoln Street Unit as well as relocation and expansion of its Crestmont Unit. The project is expected to serve at least 200 more kids each day.
"The Boys & Girls Club plays a crucial role for our community's youth. We are proud to support their BIG Futures Capital Campaign," said Bryan Price, President & CEO of IU Credit Union.
Boys & Girls Clubs of Bloomington operates three locations in Monroe County: Lincoln Street downtown Bloomington, Crestmont in the Bloomington Housing Authority, and Ellettsville. The Club serves as many as 400 youth between the ages 6 and 18 daily and over 1,400 annually through after-school, summer, and community outreach programs that focus on academic success & career exploration, good character & active citizenship, and healthy lifestyles.
---