Community Matters
We believe community matters.
Community Programs | Board Designated Contributions | Scholarships | Sponsorships | Archives
Community matters. In fact, it matters a great deal to IU Credit Union since serving our community is at the heart of what we do. Community is not a buzzword or a feel good word for us. It's about what we do as individuals and as an organization to show what is important. We're passionate about the communities we serve, particularly in the areas of education and financial literacy.
We invite you to visit our website often to see firsthand the community matters the IU Credit Union participates in. We hope this site will serve as a resource about what is happening at IU Credit Union, community outreach initiatives, special promotions, and informative articles to help you make wise financial decisions.
IUCU Helps Recognize 2016 Be More Award Recipients
Posted: April 8, 2016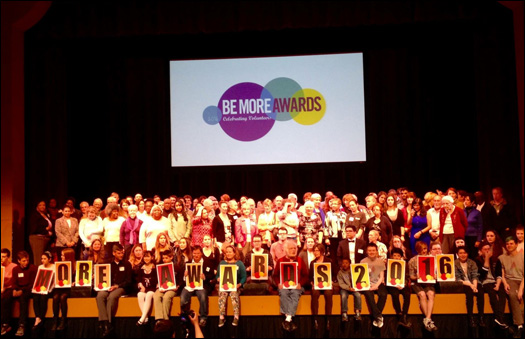 IU Credit Union President/CEO, Bryan Price, handed out the "Be More Knowledgeable Award" to Lindsay Badger during the recent celebration of volunteers. Badger was recognized in the area of education and literacy for work with New Leaf – New Life.
The Be More Awards are produced by the City of Bloomington Volunteer Network and co-sponsored by IU Credit Union. Additional volunteers recognized include:
Carrie Shabahrami – Be More Healthy
Middle Way House On Scene Advocates – Be More Collaborative
Shay Upadhyay – Be More Energized youth award
Hope Builders of New Hope Family Shelter – Be More Uplifting
Woodie Bessler – Be More Sustainable
Reimagining Opera for Kids – Be More Creative
Kathryn Sandefur and John Warkentin, Hannah Center – Be More Phenomenal
Prism Youth Community – Be More Bloomington
Nola Donley – Be More Dedicated lifetime of service
For more information about the Be More Awards, visit bloomingtonvolunteernetwork.org/BeMore.
---