Community Matters
We believe community matters.
Community Programs | Board Designated Contributions | Scholarships | Sponsorships | Archives
Community matters. In fact, it matters a great deal to IU Credit Union since serving our community is at the heart of what we do. Community is not a buzzword or a feel good word for us. It's about what we do as individuals and as an organization to show what is important. We're passionate about the communities we serve, particularly in the areas of education and financial literacy.
We invite you to visit our website often to see firsthand the community matters the IU Credit Union participates in. We hope this site will serve as a resource about what is happening at IU Credit Union, community outreach initiatives, special promotions, and informative articles to help you make wise financial decisions.
IU Credit Union Scholarship Winners Celebrated
Posted: April 4, 2014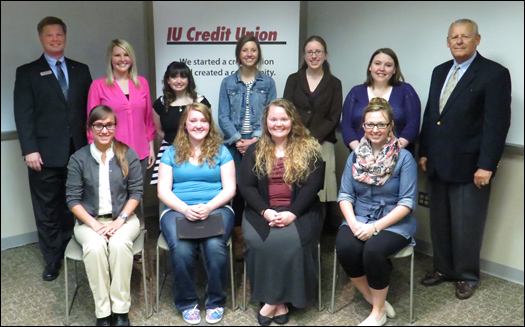 Back row, left to right: IUCU President & CEO, Bryan Price, Chelsey Hayden, Courtney Cruz,
Abigail Karcher, Karen Stafford, Maggie England, and IUCU Board Member, Don Weaver

Front row, left to right: Kristina Borich, Emily Hancock, Nicole Van Deventer, and Danielle Burris

Not pictured: Bonnie Chilibeck and Marisa Markovich
IU Credit Union awarded $19,950 in Continuing Student Scholarships for the 2014-2015 academic year at the Credit Union's annual meeting on Wednesday, March 26.
Winners from Indiana University include:
Graduate Full-time
• Kristina Borich, Master of Public Affairs/Policy Analysis, Public Management, Bloomington
• Bonnie Chilibeck, Athletic Administration/Sports Management, Bloomington
• Karen Stafford, PhD Musicology, Bloomington
Undergraduate Full-time
• Danielle Burris, Tourism, Hospitality and Event Planning, Bargersville
• Abigail Karcher, Non-Profit Management (SPEA), Bloomington
• Marisa Markovich, Nursing (Accelerated BSN), Whiting
Undergraduate Part-time
• Chelsey Hayden, Pre-Medicine, Bloomington
Winners from Ivy Tech Community College include:
Full-time
• Maggie England, Business Administration, Bloomington
• Emily Hancock, General Studies and Childhood Development, Gosport
• Courtney Cruz, Respiratory Therapy, Bloomington
Part-time
• Nicole Van Deventer, Nursing ASN, Bloomington
Congratulations to all recipients!
If you would like to learn more about the scholarships we offer, please visit our scholarships page or give us a call at 812-855-7823 or toll-free 888-855-MYCU (6928).
---