IU Credit Union Voted #1 for the Fifth Straight Year
Posted: April 29, 2011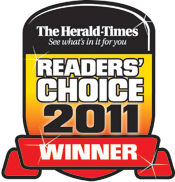 IU Credit Union was once again voted #1 by the readers of the Herald-Times!
We are honored to receive this distinction for the fifth straight year. It is a reflection of our committment to our membership. We are people helping people, as we see every day as an opportunity to remain true to our founding principles of cooperation, trust, sharing and respect for the individual.
Thank you for your votes!
Shop the Credit Union's Member Garage Sale and Help the Red Cross
Posted: April 28, 2011
Come out and shop IU Credit Union's "Everything Under the Sun" Garage Sale this Saturday, April 30th from 8:30 am to 1 pm! This annual event held at the Monroe County Fairgrounds is a member favorite and features hundreds of booths with something for everyone.
IUCU employees will be hosting a special Community Booth during the Sale. The IUCU booth will be "Popping for the Red Cross". Fresh popcorn will be on sale for $1 per bag. All proceeds from the IUCU booth will benefit the Monroe County Chapter of the American Red Cross. The Red Cross provides disaster relief and emergency services and all money donated locally will be used in Monroe County.
So, come out and shop, and help out the Red Cross by purchasing a bag of popcorn. We'll see you there, rain or shine!
IU Credit Union Supports Fit 4 Lit
Posted: April 12, 2011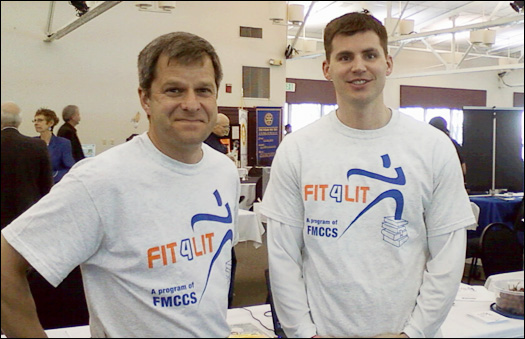 IU Credit Union was once again voted #1 by the readers of the Herald-Times!
Fit 4 Lit is a program designed to engage community members as Champions for Literacy. To become a Fit 4 Lit Champion, establish your fitness event or goal, then register through the Fit 4 Lit website https://fmccs.myetap.org/Fit4Lit/ as a Champion. The first 100 Champions to raise $250 will receive a cool Fit 4 Lit t-shirt. Look for the IU Credit Union logo on the back of your Champions t-shirt! Every dollar raised will go directly into MCCSC schools to support students and literacy.
IU Credit Union Runs for Cancer Survivors
Posted: April 12, 2011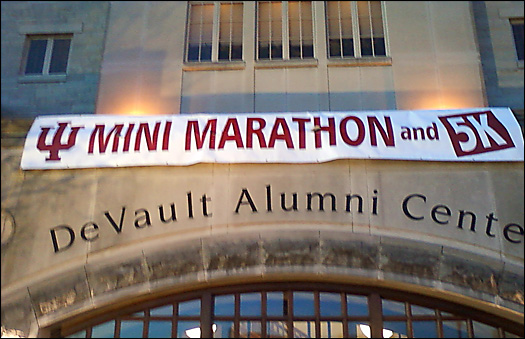 IU Credit Union runners and volunteers helped support the IU Mini Marathon and 5k presented by the IU Alumni Association. Roughly 1,500 participants raised funds for the Bill Z. Littlefield Scholarship for Survivors, a fund for students attending IU in financial need who have survived cancer.
IU Credit Union Supports O'Bannon Institute Event
Posted: April 12, 2011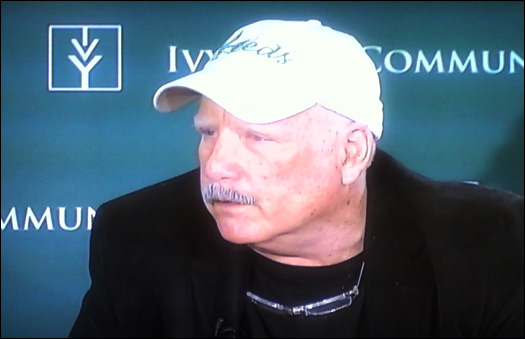 Oscar-winning actor, social and political activist, Richard Dreyfuss was this year's Conversationalist at the O'Bannon Institute for Community Service Event.
"Getting Back to Basics: Jobs, Education and Community" was the theme for the O'Bannon Institute for Community Service 2011. The credit union sponsored the annual fundraising dinner with James Carville and Mary Matalin with proceeds benefitting the Ivy Tech Center for Civic Engagement, and the panel discussions and conversation with actor, Richard Dreyfuss.
To learn more visit http://obannon.ivytech.edu/.
IU Credit Union Believes in Service
Posted: April 12, 2011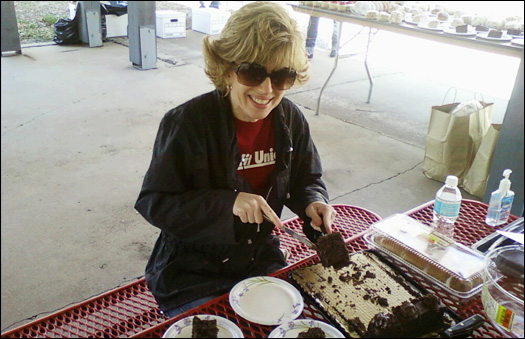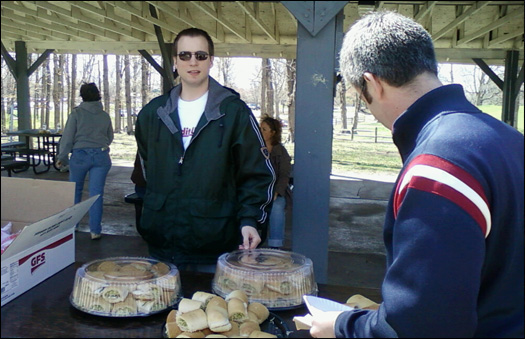 IUCU volunteers helped serve lunch to some 200 additional volunteers during the 16th Annual United Way Day of Action. The lunch at Cascades Park, helped refuel the volunteers who helped paint, clean and do other fix-up projects at various social service and child care agencies throughout the community.
Get Involved Bloomington
Posted: April 12, 2011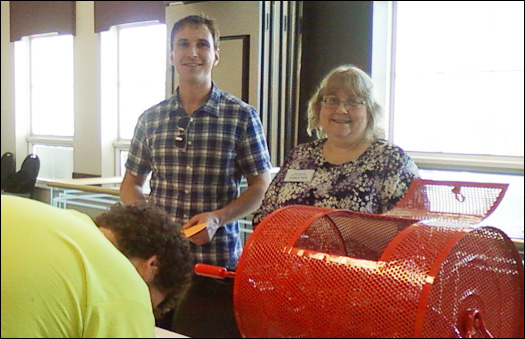 IU Credit Union supported the annual Get Involved Bloomington Expo to provide community members information on volunteer organizations, recreational activities and more. Attendees enjoyed live music, food and wine tasting, and prize drawings during the annual event at the Bloomington Convention Center.
To learn more about Get Involved Bloomington, visit their website at www.getinvolvedbloomington.org.
IU Credit Union Awards Scholarships
Posted: April 12, 2011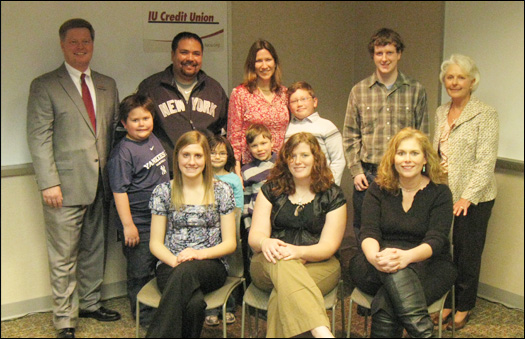 Back row, left to right: IUCU President & CEO, Bryan Price, Daniel Carnes & children, Tammy Behrman & children, James Vernia, and IUCU Board Member Sue Talbot

Front row, left to right: Alyssa Glennon, Rachel Smith, and Lisa Hardiman
IU Credit Union awarded $18,850 in Continuing Student Scholarships for the 2011-2012 academic year at the Credit Union's annual meeting on Wednesday, March 30.
Winners from Indiana University include: Alyssa Glennon, an undergraduate in Accounting & Management; Nathan Lohrmann, an undergraduate in Business Management & Spanish; Kimberly Sons, an undergraduate in French & Chemistry; Tammy Behrman, a graduate student in Environmental Science; Daniel Carnes, a graduate student in Law; and Rachel James, a graduate student in Public Affairs
Winners from Ivy Tech Community College include: Lisa Hardiman, a student in Computer Information Systems; Rachel Smith, a student in Nursing; Anna Wild, a student in Nursing; and James Vernia, a student in Health Sciences.
Congratulations to all recipients!
If you would like to learn more about the scholarships we offer, please visit our scholarships page or give us a call at 812-855-7823 or toll-free 888-855-MYCU (6928).