IUCU in the Classroom
Posted: January 20, 2011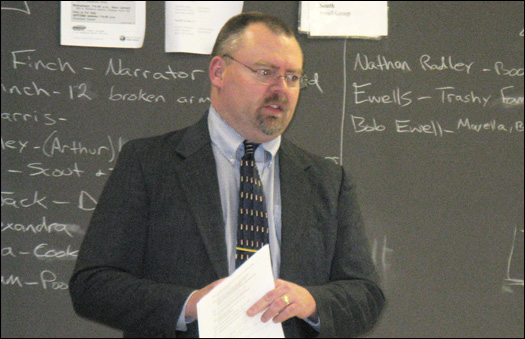 IU Credit Union's Senior Credit Analyst Allan Buhr shares his career experiences with a group of Bloomington High School South Freshman. Allan participates in the the Greater Bloomington Chamber of Commerce's Franklin Initiative Career Speakers Bureau and puts heavy emphasis on how education and life's decisions change your career path and influence your success.
The Chamber's Franklin Initiative works with teachers and schools to offer real-world experiences for students that help them realize the relevance and importance of their education to life and the world of work after graduation.
IUCU Employees Take a "Day On," Donate Check to Hoosier Hills Food Bank
Posted: January 19, 2011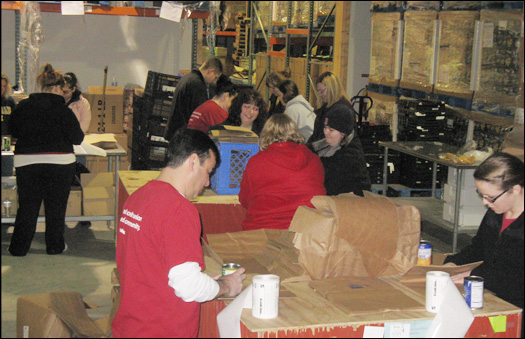 IU Credit Union employess donated their time and talents to the Hoosier Hills Food Bank during their "Day On" from a day off from work for the Martin Luther King, Jr. holiday.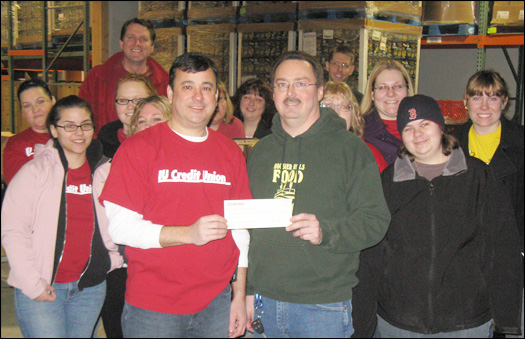 IU Credit Union employess present a check to the HHFB for $507. A dollar donated for each pound lost during the Credit Union's "Biggest Winner" weight loss/healthy lifestyle campaign!
A group IU Credit Union employees spent their day off for the Martin Luther King, Jr. holiday helping assemble collection bags for the Hoosier Hills Food Bank.
The Credit Union also donated a check for $507 - the total amount of weight lost by employess during our "Biggest Winner" campaign. $1 for every pound!
Tweet for College Scholarship Contest
Posted: January 19, 2011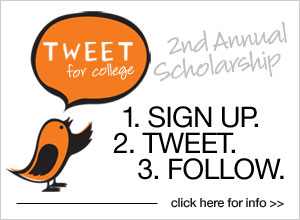 The Tweet for College scholarship is open to graduating high school seniors who belong to the Elements of Money program. There are four (4) $250 scholarships - one given every two weeks beginning on January 14, 2011 and ending March 4, 2011 - and one (1) $1,000 first place scholarship to be awarded to an overall winner. For official rules, essay topic and submission requirements, visit our Elements of Money website at: www.elementsofmoney.com/iucreditunion.
Nominate a Volunteer for the "Be More Awards"
Posted: January 4, 2011

IU Credit Union once again proudly sponsors the City of Bloomington's 2011 Be More Awards. Join the community in honoring and applauding the outstanding, but often unrecognized efforts of our community volunteers by nominating a volunteer for a Be More Award.
Ten volunteers in nine categories will be awarded Be More Awards and a $500 cash award for their volunteer organization at the April 5, 2011 ceremony. The 9 categories include: General (2), Group/Family, Arts & Culture, Board Member, College Student, Youth, Education/Literacy, Environmental/Animal Welfare, and Lifetime of Service.
Learn more about the Be More Awards and make your nomination at bloomington.in.gov/bemore. Deadline for nominations is 5 pm, Tuesday, Feb. 1.
Older Entries »