IU Credit Union Board of Directors Donates to Middle Way House
Posted: December 30, 2008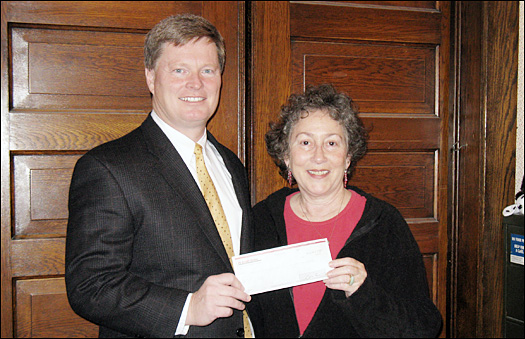 IU Credit Union President & CEO, Bryan Price presents the first of three $10,000 checks to Toby Strout, Executive Director of Middle Way House.
IU Credit Union's Board of Directors has proudly pledged $10,000 per year for the next three years to the Middle Way House's New Wings Community Partnership capital campaign. The New Wings Project includes an emergency shelter for abused women and their children, offices, a day care, a kitchen for Middle Way's FoodWorks business and affordable housing for women without children.
IU Credit Union Provides IU Student Opportunities at WonderLab
Posted: December 8, 2008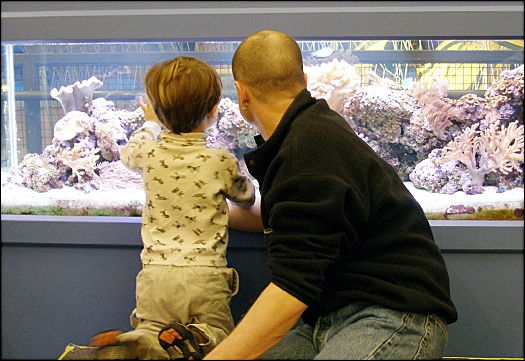 IU Credit Union is continuing its support of the WonderLab Museum, by providing sponsorship for "Beyond the Classroom: Real-World Work Experience for IU Students." The Credit Union's support for internships and work study positions continues to play an integral role in providing valuable work experiences for some of IU's most promising students.
IU students are key to the effectiveness of all departments of the museum and make it possible for WonderLab to provide educational and exciting experiences for over 70,000 visitors a year.
The museum, located at 308 West Fourth Street in Bloomington, is open to the public Tuesday - Saturday, 9:30 am - 5:00 pm, and Sunday, 1:00 - 5:00 pm. General admission is $6.00 for children and $7.00 for adults. Children under the age of one are free. Annual memberships are available. Member benefits include free admission to WonderLab and reciprocal free admission to more than 270 other science centers. Free, convenient parking is available in downtown Bloomington. For more information, go online to wonderlab.org or call 812-337-1337 ext. 25.
Smart Choices Essay Winner: The Cappy Family
Posted: December 8, 2008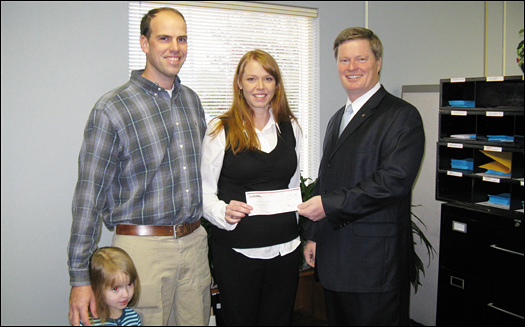 IU Credit Union President and CEO, Bryan Price, presents the Cappy family $500 for winning the Smart Choices in Home Equity Essay Contest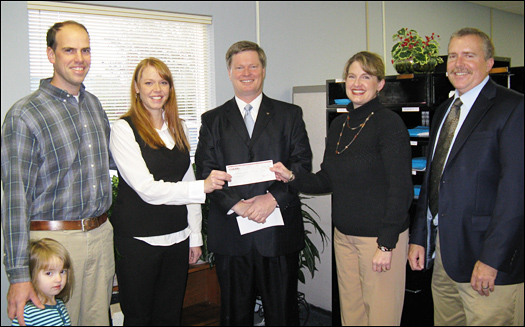 Mim Cappy presents a check for $500 to Pam Lawrence Puls and Greg Marchant, co-directors of the MCCSC School Assistance Fund
IU Credit Union awarded the Cappy family $500 for their winning Smart Choices essay. The Cappy's chose the MCCSC School Assistance fund as the United Way agency to receive an additional $500. "We chose the MCCSC School Assistance Fund because we understand how important their services are to local school children. Damon's father was the principal at Fairview Elementary School right here in Monroe County, and his aunt, Julie Cappy, is currently a teacher at Unionville Elementary. I'm also a teacher, so we were happy to have this opportunity to contribute to something so close to our hearts. Thank you to everyone who voted."
The MCCSC School Assistance Fund provides clothing, dental, eye and emergency medical care for students who need assistance to function in school.
Congratulations to the Cappy family and thank you for choosing such a worthy cause to receive the $500 donation.
The winning entry:
A "Smart Choice" For Our Family
By Mim Cappy
My husband and I built our modest size house about 11 years ago. It was perfect for just the two of us and nestled on a beautiful wooded lot. We had plenty of space for all of our "stuff." Even though we were young, we knew someday we would like to raise a family. Would our home be accommodating for a baby? Sure, we thought, babies are small, they hardly take up any space at all. We were wrong.
Six years ago, I gave birth to a healthy baby girl. She was small. However, all of her "stuff" was big. Before we knew it, our house was filled with things like, swings, rockers, high chairs, tiny bath tubs, cribs, bassinets, play yards, and saucers (the huge contraption you put a baby in, not the small one you put in the cabinet). The cute, little, tiny baby also required her own closest to hold her little, baby clothes, which seemed to multiply on a daily basis along with all of her toys.
We could feel the walls closing in a bit, but we managed. When our daughter was three, were blessed for a second time with another healthy baby girl. We gathered up all of the baby supplies once again, but this time space was lacking. As our family grew, our comfortable home began shrinking. It felt like we were trying to shove our size 9 foot into a size 5 shoe.
We HAD to do something! We could move out of our lovely home, where we had created so many memories, or we could build on an addition. After crunching the numbers, we decided to build on, because we love where we live. The process of building onto an existing structure is not an easy one to say the least. My husband has experience in construction so we did it ourselves to save more money. Everything must match up perfectly, floors, roof lines, color of siding, etc. Then there is the issue of "living" on a construction site. The baby needed to nap, but we needed to hammer...loudly. The dust made me sneeze and wheeze, but my dear husband kept going, promising better days. It took about a year to complete everything and pass final inspection.
We love our home now, and enjoy spending time with the girls in the new family room. Our daughters are the most important people in our lives. We have their future on our minds and that is why we recently we made a "Smart Choice" and took advantage of the "Monster Loan Sale" at the IU Credit Union. We refinanced our high interest rate home equity loan for a much better rate at the IU Credit Union. The whole process was unbelievably fast and easy. Now, money we save in interest, we can invest in our both of our daughters' college savings accounts. That was definitely a "Smart Choice" because they are worth it!