Member Service Support Participates in Red Nose Day
Posted: May 21, 2015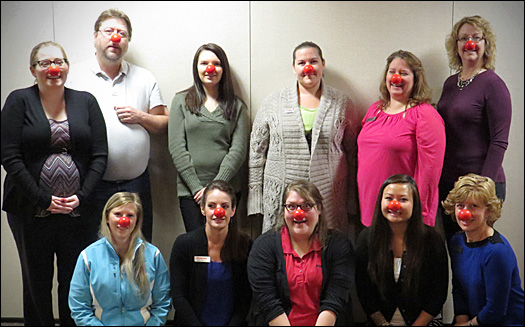 IU Credit Union Member Service Support employees playfully support Red Nose Day by helping raise money for children and young people living in poverty.
What is Red Nose Day?
Red Nose Day is a campaign dedicated to raising money for children and young people living in poverty by simply having fun and making people laugh. The inaugural Red Nose Day will be held in the US on May 21st, 2015. People across the country will come together to have fun and raise funds and awareness. The day's events will culminate in a three-hour entertainment TV special on NBC featuring the country's favorite comedians, musicians and Hollywood stars—it's a show not to be missed!
What's the history of Red Nose Day?
Red Nose Day is a fundraising campaign thrown by the nonprofit organization Comic Relief. In the UK, Red Nose Day has been going for 30 years and is an inspiring cultural phenomenon that unites people from all walks of life in the interest of saving and changing lives across the globe. Since the first Red Nose Day, Comic Relief has raised over £1 billion to help people in need around the world.
How is the money spent?
All of the grant money distributed by the Red Nose Day Fund will be given to a variety of nonprofit organizations that transform children's lives. The great news is that half the money distributed will be spent right here in the US at projects close to home. The other half will be spent in some of the poorest communities in Africa, Asia and Latin America. All of the grant money will be used in projects to keep children and young people safe, educated or healthy.
Where can I donate?
That's a good question. If anyone would like to donate to The Cause, feel free to stop by www.rednoseday.org!
IU Credit Union Supports Ivy Tech's O'Bannon Institute
Posted: May 6, 2015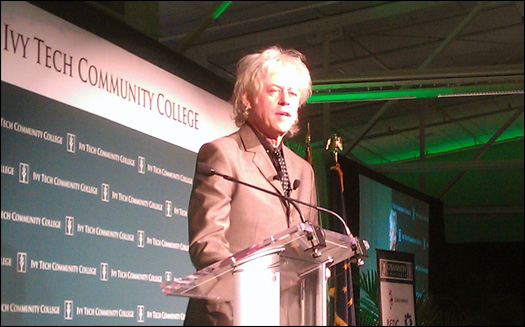 Singer, songwriter, political activist, philanthropist, and author, Bob Geldof was the keynote speaker at the Ivy Tech Community College-Bloomington's 12th annual O'Bannon Institute for Community Service. Event proceeds benefit the Ivy Tech-Bloomington Center for Civic Engagement.
The O'Bannon Institute for Community Service was established in 2004 as an annual opportunity for the community to come together to discuss issues of importance. The event includes a civic engagement awards ceremony, a day of volunteering in the community, the fundraising dinner, panel discussions, and closing conversation.
To learn more about the Ivy Tech–Bloomington campus at www.ivytech.edu/bloomington.
IUCU Celebrates Community Volunteers
Posted: May 6, 2015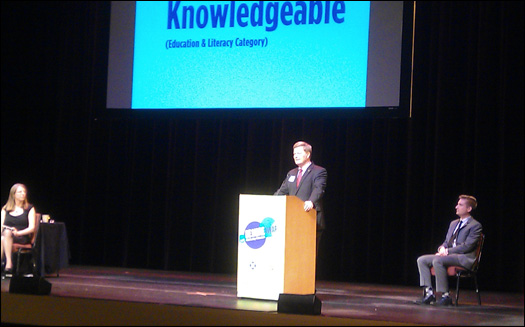 IU Credit Union President & CEO, Bryan Price (pictured), presents the" Be More Knowledgeable" award during the annual volunteer celebration. The City of Bloomington Volunteer Network "Be More Awards" recognizes the efforts of 10 committed volunteers or volunteer groups at the Buskirk-Chumley Theatre event. Congratulations to all 57 nominated volunteers and the 2015 "Be More Award" recipients.
To see how you can become involved, visit the City of Bloomington Volunteer Network at www.bloomingtonvolunteernetwork.org.
Older Entries »