IU Credit Union on Career Expo Panel
Posted: April 27, 2012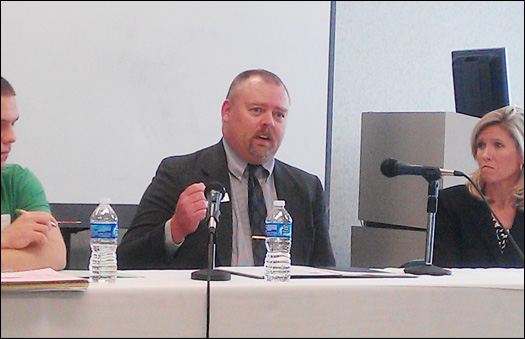 IU Credit Union Senior Business Analyst Allan Buhr fielded questions as a panelist during the Ivy Tech Career Expo. Buhr and other panelists helped students with questions concerning personal finance, building good credit, identity theft and protection and marketing themselves in the workforce.
IUCU Sponsors Ninth Annual O'Bannon Institute
Posted: April 27, 2012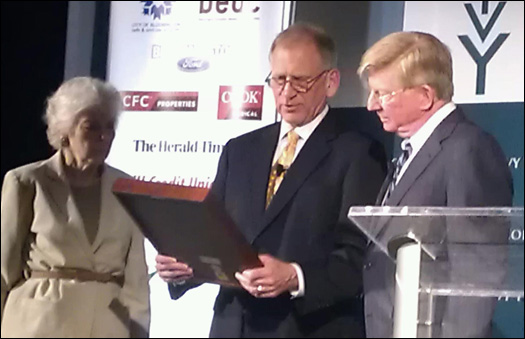 Judy O'Bannon and Ivy Tech Bloomington Chancellor John Whikehart present Pulitzer Prize winning novelist, George F. Will a plaque acknowleging his contributions to this year's event.
Ivy Tech Bloomington's O'Bannon Institute for Community Service events focused on community service, service learning, and civic engagement. The three day event included an awards program, fundraising dinner with Pulitzer Prize winning novelist George F. Will, panel discussions and conversation with Political Analyst, Cokie Roberts. The O'Bannon Institute for Community Service is named to honor the legacy of the late Indiana Governor Frank O'Bannon.
IUCU Participates in Money Week
Posted: April 27, 2012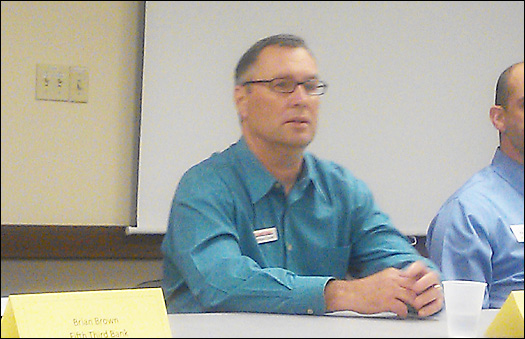 Long time IU Credit Union Lending Representative Dennis Crowe served as a panelist during the Indiana Money Smart Week session, "Revealing the Credit Mystery." Organized by the Financial Stability Alliance for South Central Indiana in partnership with the United Way of Monroe County, Money Smart Week is a series of free events open to the public that helps consumers better manage their personal finances.
IUCU Walks to Fight Homelessness
Posted: April 24, 2012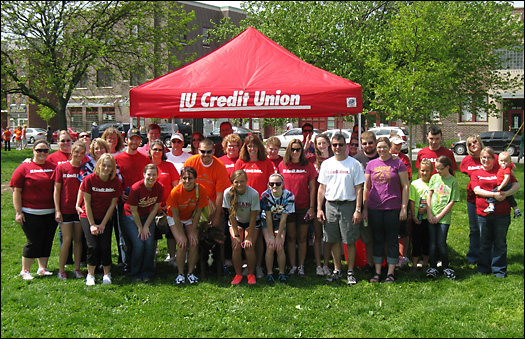 Team IUCU before participating in the 2012 Homeward Bound Walk.
On Sunday, April 15, more than 50 IUCU employees, family and friends walked in support of Bloomington's 10th Annual "Homeward Bound" 5K Walk.
Since its inception in 2003, Homeward Bound has raised more than $3 million for over 100 affordable housing and homeless service providers across the state. It is sponsored locally by area social service providers and key community partners such as IU Credit Union. 100% of the funds raised by this event stay in Bloomington to help people experiencing homelessness with shelter, food and other emergency assistance needs.
View more pictures of this event on our facebook page.
IUCU Helps to Create Sustainable Future
Posted: April 17, 2012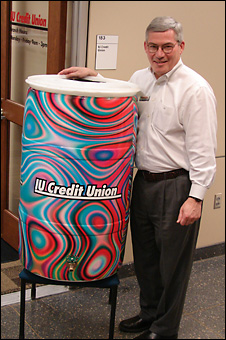 Bob Schell, IUCU Branch Manager in South Bend, stands with the IU Credit Union rain barrel.
IU Credit Union is proud to sponsor the 2011-2012 Original Art Rain Barrel Auction presented by the IUSB Center for a Sustainable Future. Rain barrels were painted by area artists and artist groups and will be auctioned off to the public. All proceeds will benefit the IUSB Center for a Sustainable Future, South Bend Museum of Art and the Artists/Artist Groups. Rain barrels help create a sustainable future by capturing rain water for watering flowers and vegetables, keeping storm water from entering the river and beautifying yards.
The IU Credit Union rain barrel will be on display at the branch located on the campus of IU South Bend from April 1 through April 19. It will then be on display at the South Bend Museum of Art from April 20 through May 4. On May 4, it will serve as a bistro table at the Auction and will then be donated to a local community, school, not-for-profit or Unity garden group.
The aution will take place Friday, May 4 at 7:00pm South Bend Museum of Art Century Center. For more information, please call 574-520-4429.
IUCU Participates in Thing-A-Ma-Dig Beautification Project
Posted: April 17, 2012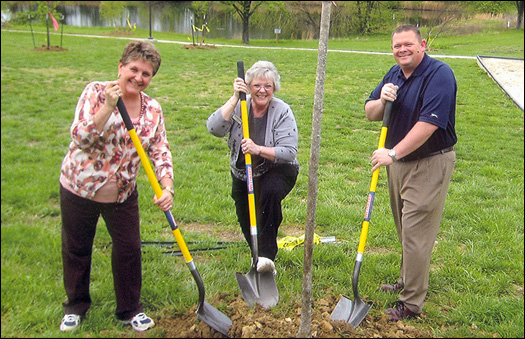 IU Credit Union's Debbie King & Cheri Boren planted a tree in the Credit Union's name with help from Cheri's son, Rob.
On April 4, the New Albany branch helped the IU Southeast campus community complete the Thing-A-Ma-Dig, a campus beautification project. Volunteers planted 70 trees in the green space around the IU Southeast Lake in honor of the campus's 70th anniversary. A variety of trees were planted including red oaks, tulip poplars, red maples, Kentucky coffee trees and white oaks. Each group left their mark on their individual trees with red ribbons noting the tree's planters.
Let's Go for a Walk!
Posted: April 4, 2012

IUCU is assembling a team to walk in the 10th Annual Homeward Bound Walk, a 5K in Bloomington put on by local homelessness and affordable housing service providers. The walk will be held on Sunday, April 15 at 3rd Street Park. Members are welcome to join our team!
You can join the IU Credit Union team online:
Visit homewardboundindiana.org/bloomington.
Click the "Browse Teams" tab near the top of the page.
Find IU Credit Union and click "Join This Team."
You'll create your own username, password and other information including your t-shirt size.
Each person in your family, group, etc. who plans to participate will need to sign up online.
Contact Kevin Osborne at kosborne@iucu.org with questions.
IU Credit Union Awards Scholarships
Posted: April 4, 2012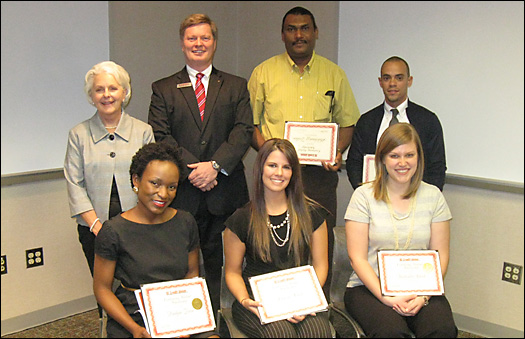 Back row, left to right: IUCU Board Member, Sue Talbot, IUCU President & CEO, Bryan Price, Abdelmuezz Zeidan, and Francisco Guzman

Front row, left to right: Mahja Zeon, Laura Scott, and Natasha Yurk
IU Credit Union awarded $15,700 in Continuing Student Scholarships for the 2012-2013 academic year at the Credit Union's annual meeting on Wednesday, March 28.
Winners from Indiana University include: Kelli Cox, an undergraduate in Nursing, Alexis Glennon, an undergraduate in Accounting & Management, Sarah Mosier, an undergraduate in Spanish & Portuguese, Francisco Guzman, a graduate in Law, Natasha Yurk, a graduate in Sociology, Mahja Zeon, a graduate in Law, and Ben Bagocius, a part-time graduate in English Literature.
Winners from Ivy Tech Community College include: Brian Cloud, a student in Nursing, Laura Scott, a student in Science, and Abdelmuezz Zeidan, a student in Accounting.
Congratulations to all recipients!
If you would like to learn more about the scholarships we offer, please visit our scholarships page or give us a call at 812-855-7823 or toll-free 888-855-MYCU (6928).