IU Credit Union Supports Community Food Drive
Posted: April 18, 2008


Indiana University Credit Union is proud to support the 22nd Annual Hoosier Hills Food Bank's community wide food drive, Live From Bloomington.
On Saturday, April 12, Bloomington area residents filled donation bags, provided in part by IU Credit Union, with nonperishable food items for collection. Through this annual effort, more than 290,000 pounds of food have been collected. Donations to the Hoosier Hills Food Bank provide food for area soup kitchens, shelters and food pantries.
In 2007, more than 24,000 people were fed through the 85 agencies the Hoosier Hills Food Bank serves.
Live From Bloomington also includes two nights of music courtesy of Indiana University's Union Board. On Thursday, April 17 and Friday, April 18, eight Bloomington music venues will host a total of 20 different musical artists. Patrons may also drop off nonperishable food items at these performances.
IU Credit Union Supports VITAL
Posted: April 9, 2008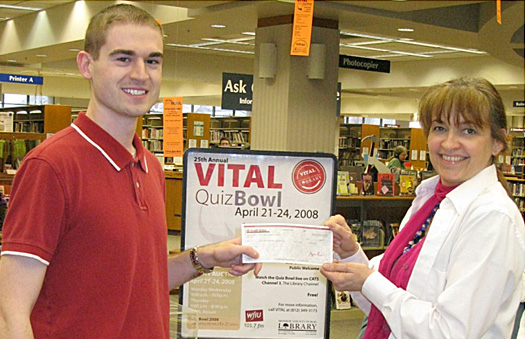 IU Credit Union's Jacob Seibel presents a donation to VITAL at the Monroe Public Library
Recently, IU Credit Union took advantage of an opportunity to help advance the local community. A donation for fundraising initiatives was made to the VITAL program located at the Monroe County Public Library in downtown Bloomington.
The Monroe County Public Library's Volunteers in Tutoring Adult Learners (VITAL) program helps to improve the lives of adults in Monroe County. Their purpose is to help adults achieve functional literacy. For 30 years, VITAL has offered free and confidential one-on-one tutoring that covers various skills including math, reading, and speaking.
VITAL averages about 65 learners a week. They are paired with volunteers and meet for about two hours each week. Small groups of ESL (English as a Second Language) classes are also offered for practicing conversational English. In these groups, everyone shares in the learning experience since many participant backgrounds are present.
This April marks the 25th anniversary of the VITAL Quiz Bowl and Silent Auction. This is the program's annual fundraiser in which the public is invited to attend. The Quiz Bowl, taking place in the Library Auditorium, is a competition that is broadcast live on the Library Channel, CATS cable channel 3. While there, everyone can enjoy the Silent Auction in the Atrium as well. Come and bid on various items: celebrity autographs, jewelry, clothing, art, furniture, and more!
If interested in volunteering or would like more information, please contact Sue Murphy, VITAL Coordinator at 812-349-1373, visit them in person at VITAL's Office located on the Library's second floor, or visit them on the web at www.mcpl.info/vital.
Older Entries »