"Tapestry: A Day for Women"
Posted: March 12, 2008

IU Credit Union is proud to support "Tapestry: A Day For Women" April 25, 2008, at the Allen County War Memorial Coliseum in Fort Wayne. "Tapestry: A Day For Women" features speakers Zonya Foco and Marie Osmond. Be sure to visit the IU Credit Union booth during the event.
"Tapestry: A Day For Women" is for women of all ages and will be a day for discovering purpose, having fun and gaining knowledge. Presented by IPFW and Parkview Health, funds raised during this years event will fund full-year scholarships for two different female recipients.
Jim Spore Receives "Unsung Hero" Award
Posted: March 10, 2008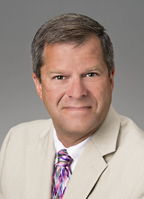 Jim Spore
Jim Spore is the recipient of the Bill C. Brown Associates "Unsung Hero" award for the week of March 17, 2008. Jim was one of hundreds of nominees for this award. Here are a few remarks about Jim's accomplishments:
Jim Spore spearheaded and has coached the St. Charles swim team since 2003. He has touched the lives of many students, providing a "team" experience for many. He has encouraged inexperienced students to just "give it a try", and many kids have been able to enjoy personal triumph and success. He started a program with 20 swimmers, and the program has nearly doubled in four years. In addition, the first ever County Swimming Championship, Jim's project, took place on March 6, 2006.
In addition to Jim's countless hours devoted to coaching St. Charles' swim team, Jim was the IU Credit Union Coordinator for the YMCA's 2007 Corporate Challenge, in which IUCU brought home the Team Spirit Award. Jim led 85 employees through 21 challenging events. Jim's also a member of Bloomington Kiwanis, a volunteer swim official for USA swimming, and is an active member of St. Charles Church.
Jim received a plaque and a check for $100 made out to the charity of his choice.
Older Entries »