IU Credit Union Honors Continuing Student Scholarship Winners
Posted: March 27, 2009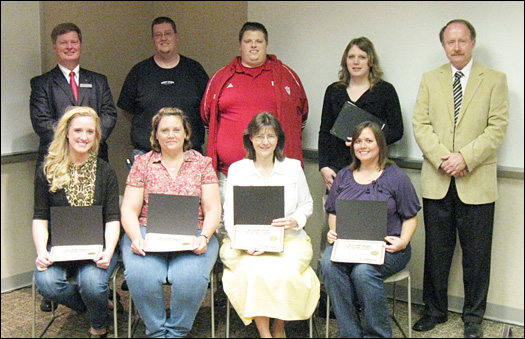 Back row L to R: CEO, Bryan Price, James Uland, Benjamin Dukes, Dana Contreras, Board Chair, Timothy Thrasher

Front row L to R: Ashley Morse, Sheila Blake, Susan Cain, Kristin Jordan

Not pictured: Rebecca Clouser, Doreen Pearse, Terra Smith, Ryan Harvey, Joshua Quimby & Jose Saldivar
IU Credit Union proudly honored it's 2009-2010 Continuing Student scholarship winners at the 52nd annual meeting. IU Credit Union is a strong supporter of life-long learning, and is proud to award $20,000 annually to deserving students who decide to continue their education. The winners for the 2009-2010 academic year are:
Indiana University
Graduate Full-time — $2,150 Award

Rebecca Clouser, Geography, Bloomington
Kristin Jordan, Sociology, Bloomington
Doreen Pearse, Music, Bloomington
Graduate Part-time — $1,100 Award

Terra Smith, Secondary Education, Bloomington
Undergraduate Full-time — $2,150 Award

Ryan Harvey, Business, Bloomington
Joshua Quimby, Secondary Education, Bloomington
Undergraduate Part-time — $1,150 Award

Susan Cain, General Studies, Bloomington
Jose Saldivar, Undecided, Bloomington
Ivy Tech
Full-time — $1,700 Award

Dana Contreras, Political Science, Indianapolis
James Uland, Business Administration, Bloomington
Part-time — $850 Award

Sheila Blake, Business Administration, Bloomington
Benjamin Dukes, Education, Bloomington
Ashley Morse, Office Administration, Bloomington
Congratulations to all winners! We wish you the best of luck as you further your education. If you would like to learn more about how to receive an IU Credit Union scholarship visit our scholarships page.
IU Credit Union has "Spirit Day"
Posted: March 27, 2009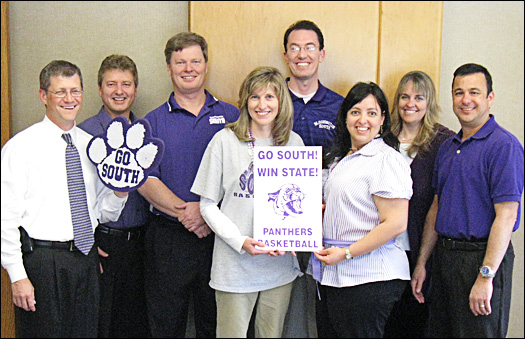 IU Credit Union employees dress in purple to support the BHSS Boys Basketball team as they compete for the state title.
IU Credit Union employees enjoyed a "Spirit Day" on Friday, March 27, showing support for the Bloomington High School South Boys Basketball team by wearing purple and gray. Bloomington High School South will play for the state title on Saturday, March 28.
The Credit Union celebrated an earlier "Spirit Day" at the beginning of the state tournament by wearing their favorite team's colors. Spirit ran true, as the Credit Union was a full spectrum of color.
IU Credit Union Recognized by Stone Belt
Posted: March 13, 2009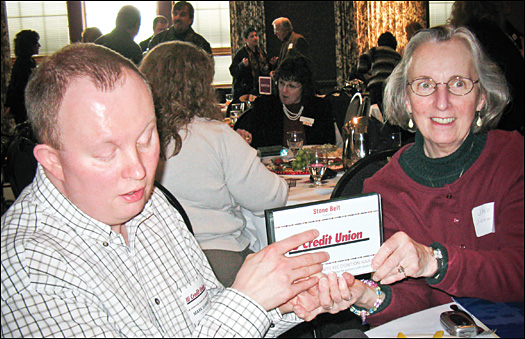 Mark Summitt is pictured with his mother, Jane Summitt, at Stone Belt's Employer Recognition Ceremony on Disability Awareness Day, March 3, 2009. Mark nominated the IU Credit Union for the Business Recognition Award and has been employed at the Credit Union for 10 years.
IU Credit Union was among ten employers recognized by Stone Belt Employment Services for outstanding contributions in promoting opportunities for persons with disabilities. Employee Mark Summitt has the responsibility of shredding confidential documents in the Credit Union's Records and Retention department.
In his entry to nominate the Credit Union for recognition, Mark states, "This is my 10th anniversary and I still love working at IU Credit Union. God has blessed me with a great job and wonderful colleagues. Thank you IU Credit Union and Stone Belt."
Older Entries »