Ellettsville Branch Welcomes Its First Member
Posted: January 16, 2008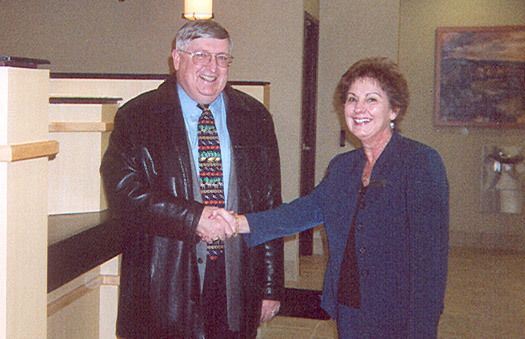 Branch Manager, Janet Chaffin welcomes Dick McKaig, Vice Provost for Student Affairs and Dean of Students at Indiana University, as the first member to utilize the Ellettsville branch.
On December 20, 2007, IU Credit Union opened the doors to its new Ellettsville branch, and welcomed Dick McKaig, Vice Provost for Student Affairs and Dean of Students at Indiana University as the first member to use the new branch. Dick has been a member of the IU Credit Union for over 30 years, and enjoys the added convenience of the new branch. "The branch is close to my home. It has easy access off Highway 46," he said. Dick was also impressed with the new branch and its staff. He said, "The branch is very attractive and the staff is friendly, efficient, and professional." We're proud to have Mr. Dick McKaig as a long-time member of the Credit Union. We wish to thank all of our membership for allowing us to serve you as IU Credit Union Members!
The new full-service branch is located at 3801 West State Road 46 in Ellettsville (State Road 46 & Smith Pike), and includes a four-lane drive-up, night depository, and an ATM. Stop in and see us! We look forward to serving you.
IU Credit Union Will Award $32,000 in Scholarships in 2008
Posted: January 16, 2008
IU Credit Union will award $32,000 in scholarships for the 2008-2009 academic year. Each year, IU Credit Union provides $20,000 in scholarships to members who are either full- or part-time students returning to Indiana University or Ivy Tech Community College after a break in their education of two or more consecutive years. Pick up an application in any branch, or click here for eligibility requirements or to download a PDF version.
In addition to the Returning Student Scholarships, IU Credit Union also provides $10,000 in scholarships to graduating high school seniors of Bloomington North, Bloomington South, Brown County, Edgewood, Lighthouse Christian, Martinsville, Eastern Greene, Bedford North Lawrence, Aurora, and Owen Valley High Schools. There is also an additional $2,000 available to students who do not attend one of the aforementioned high schools. For more information about the Credit Union's high school scholarship program, please contact your school's guidance office or visit our scholarships page.
"Creating Lasting Change" Essay Contest Results
Posted: December 20, 2007
Updated: January 9, 2008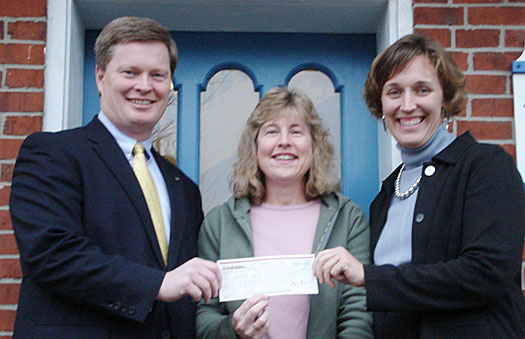 Bryan Price, President & CEO of IU Credit Union, presents Karen Peterson-Taylor, Create Lasting Change Essay Contest Winner and Kerry Thomson, Habitat for Humanity of Monroe County Executive Director, a check for $1,000, to be donated in Karen's name for the Habitat for Humanity of Monroe County.
Thank you for participating in our "Creating Lasting Change" essay contest. We received several heart-warming essays, including ones on behalf of Big Brothers Big Sisters, the Sycamore Land Trust and WildCare Inc. The winner of the essay contest was Karen Peterson-Taylor, who submitted an essay on behalf of the Habitat for Humanity Women's Build that takes place each May.
Karen started volunteering for Habitat because she wanted to show her three children that one person can make a difference in someone else's life. Referring to her first Women's Build, Karen said, "I was going outside my comfort zone, not only asking for donations from family, co-workers and friends, but also by doing something I had never done before-using power tools and building a house." She concluded her essay by stating, "The women of Monroe County can build a house in a week with the support of our community...and the power within."
IU Credit Union will make a $1,000 donation to Habitat for Humanity in Karen's name. Visit this page often to see more IU Credit Union community efforts and future opportunities to Create Lasting Change.