In Your Interest
Keep up with happenings at IU Credit Union with In Your Interest, our quarterly member newsletter.
Holiday Closings

All branches of the IU Credit Union will be closed Monday, September 7th in observance of Labor Day.
Remember that your debit card, Online Banking and Mobile Banking are available 24/7. Plus you have surcharge-free access to your account at thousands of ATMs nationwide in the CO-OP and Alliance One ATM networks.
New Branches Coming to Greenwood Area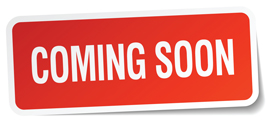 We are excited to announce that we are expanding our presence in Greenwood! IU Credit Union will be opening two new locations, both off of Smith Valley Road. One on US 31 and the other on SR 135, both new locations will have Saturday hours and drive-up service.
We are thrilled about the opportunity to better serve our Greenwood and Indianapolis-area membership. We'll keep you updated on our progress through our newsletter, website and Facebook page.
Scholarship Winners
Each year IU Credit Union offers eleven $1,000 scholarships to graduating high school seniors. Scholarships were offered to students at Bedford North Lawrence, Bloomington North, Bloomington South, Brown County, Eastern Greene, Edgewood, Lighthouse Christian Academy, Martinsville, New Tech and Owen Valley.
One additional $1,000 scholarship was awarded to a senior not attending a high school listed above.
Winners include:
Nicholas Wernert
Bloomington HS North

Victoria Fosha
Bloomington HS South

Matthew Adams
Brown County HS

Linndsia Terrell
Eastern Greene HS

Emma Hall
Edgewood HS

Emily Archer
Lighthouse Christian Academy

Cheyenne Nunn
Martinsville HS

William Robinson
The Academy of Science & Entrepreneurship

Not Pictured

Michael Hendershot
Owen Valley HS

Shelby Allen-Davis
Bedford North Lawrence HS

Not Pictured

Grace Handlos
Homeschool (Other)



Click here to learn more about IU Credit Union Scholarships »
Investment Services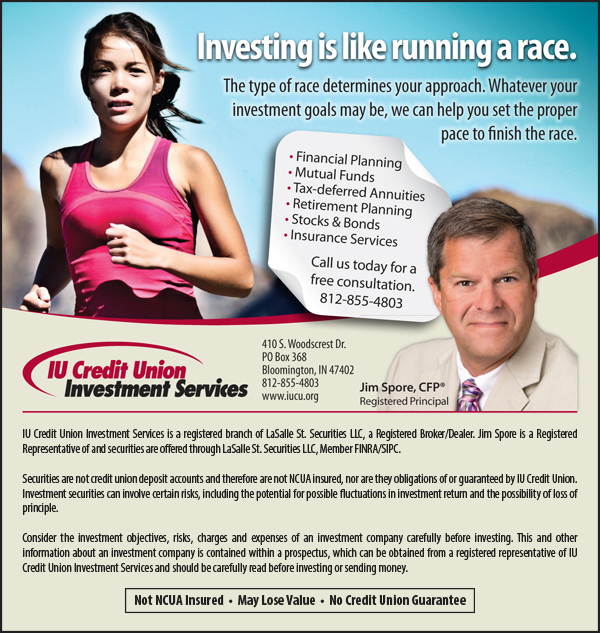 IUCU at the Fair

IU Credit Union will have a booth at the Monroe County Fair, July 25th-August 1st. Stop by so we can thank you for being a member. Chat with Credit Union employees and see what "fair" deals we can offer you!
What Will EMV (Chip) Credit and Debit Cards Mean for You?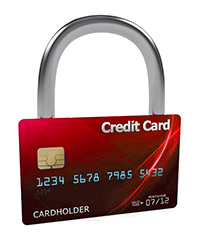 from Home & Family Finance Resource Center
The U.S. is poised to upgrade its debit and credit card security systems in an effort to fight skyrocketing fraud costs. And while federal regulations already protect you, as a consumer, from liability for most fraudulent transactions a crook could make using your account, when payment industry participants are hit by fraud, everyone's costs increase.
That's why the U.S. industry plans to implement EMV (Europay, MasterCard, and Visa) cards, which contain computer chips that authorize or validate payment card transactions. We're the last developed country in the world to do so.
What's the Problem?
The cards we use today have magnetic stripes on the back, with each "mag stripe" including a security code that the point-of-sale (POS) terminal reads when you swipe it to buy something at checkout. EMV chips use an algorithm, or formula, to calculate a unique security code for each transaction.
If fraudsters capture information from an EMV chip, they can't use it to make a counterfeit card—the security code isn't in the chip.
Today, if fraudsters obtain the information from a mag stripe, they can easily and inexpensively create a usable counterfeit card, complete with security code. If fraudsters capture the information from an EMV chip, they can't use it to make a counterfeit card, since the security code isn't in the chip.
As a result, while the Nilson Report says global payment card fraud losses were $11.3 billion in 2012, up nearly 15% from the previous year, the U.S.—the only country in which counterfeit card fraud is consistently growing—accounted for 47% of that amount.
"Fraud has decreased significantly in other countries," observes Doug Benzine, vice president of publishing and strategic resources at the Credit Union National Association (CUNA), Madison, Wis. "But criminals are targeting the U.S. because that's where the easy pickings are, since we don't use EMV cards."
It's a problem for international tourists who travel here, because U.S. POS terminals can't read their cards' EMV chips and protect them from counterfeit. It's also a problem for U.S. consumers—at the very least, having to replace your payment card after experiencing fraud is a huge inconvenience.
Why are we behind the curve?
Criminals target the U.S. because that's where the easy pickings are, since we don't use EMV cards.
"Merchants have to replace or retrofit their POS terminals, and we have so many more terminals than other countries," Benzine explains. "We're bigger and have a lot more independent payment networks, so there's not one standard like in many countries. We have a lot of older infrastructure, where many countries started up with EMV cards."
Credit unions and other card issuers will have to reissue and send out new cards, too, and they cost significantly more to produce. Until fraud losses spiked in the past few years, neither merchants nor issuers felt the cost of converting to EMV processing was justified.
When will the shift occur?
With fraud costs becoming less manageable, and to ensure consumers feel confident using their cards, Visa and MasterCard have set time-frames and added "incentives" for the shift to EMV. By Oct. 1, 2015, if a consumer presents an EMV card and the merchant's POS terminal isn't EMV-enabled, the merchant is liable for any resulting counterfeit fraud losses. If a cardholder doesn't have an EMV card by that date and the merchant has an EMV terminal, the card issuer is liable for any counterfeit fraud (as is the case today).
Will EMV cards stop all payment card fraud?
Chip cards protect against counterfeit fraud but, on their own, don't prevent fraud from online or telephone-based transactions.
Chip cards protect against counterfeit fraud, but on their own, don't prevent "card-not-present" fraud from online or telephone-based transactions. Since you don't physically swipe your card at a POS terminal for these payments, the EMV chip doesn't come into play.
However, together with other tools the industry is developing, EMV cards could help prevent this type of fraud in the future.
Payment-fraud prevention is an ongoing battle against criminals, and EMV cards are one of the latest—and arguably greatest—weapons in the fight.
Shred Days Have Returned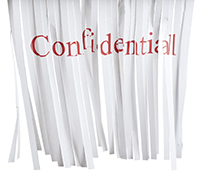 Back by popular demand: IUCU shred day! IUCU is partnering with American Shredding and Confidential Document Destruction to offer this great service to our community. Our first shred day was such a success that we have decided to double down and offer two Saturday shred days. Donations are required in exchange for the shredding services. Limit 2 (or equivalent) brown paper grocery sacks of confidential paper items—no newspapers or magazines, please. Below is the info for each date.
Saturday, July 18th, 10:30-Noon at the Winslow Branch North Parking Lot. Please bring school supplies or non-perishable foods as your donation.
Saturday, November 14th, 10:30-Noon at the Winslow Branch North Parking Lot. Please bring new unwrapped children's toys or non-perishable food items for donation.
All donations will be given to Middle Way House—which seeks to end violence in the lives of women and children through community activities and programs aimed at achieving individual and social change.
What to Keep for How Long
Credit card receipts and statements: 45 DAYS*
Keep receipts until your monthly statement arrives; if that's correct, shred the receipts. Exceptions: Keep a receipt if you're disputing a bill or to cover a warranty or return period. Keep the statements for seven years if they contain tax-related expenses.
Paycheck stubs: ONE YEAR*
Make sure the information on your paycheck stubs matches your annual W-2 when you receive it, then shred the stubs. If your employer lists vacation/sick leave carryover on your paycheck stub, keep the last one of the year. Notify your employer if the information does not match.
Credit union records: ONE YEAR*
At the end of each year, go through your checking carbons or statements and only keep those related to taxes, business expenses, and housing or mortgage payments.
Tax records: SEVEN YEARS*
The IRS has three years to audit your return, and you have three years to file an amended return to claim a refund if you made a mistake. If you made the mistake of underreporting your gross income by 25% or more on a return, the IRS has six years to challenge it. If you filed a fraudulent return or didn't file one at all, the IRS can catch you on it at any time. Keep a copy of all 1040 tax forms permanently.
Miscellaneous: PERMANENTLY*
Keep these permanently: Updated household inventory, birth and death certificates, marriage license, divorce papers, military records, insurance claims, accident reports and claims, proof of ownership and major debt repayment, IRA contribution records, and legal correspondence.
*Some cases call for longer retention
IU Credit Union Auto Center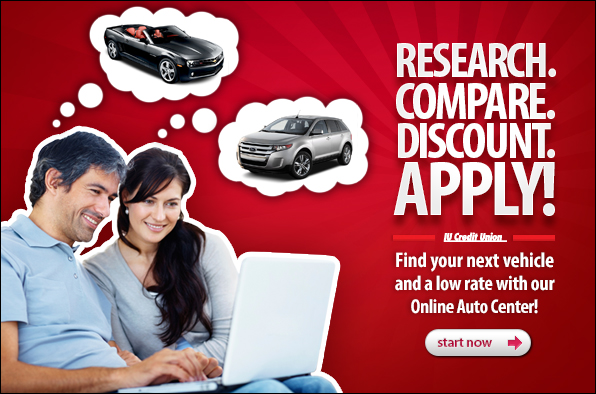 New Albany Branch to Close July 31st
We are proud to have served the Indiana University Southeast campus for nearly forty years. During this time, we have established valued member relationships and appreciate those who selected IU Credit Union as their financial provider.
Unfortunately, branch usage and the number of members in the New Albany area have steadily declined over the past 10 years. After careful consideration, we have decided to close the New Albany branch effective July 31, 2015. The ATM located in University Center North will also be removed.
If you are a member who currently utilizes the New Albany branch, please note that your IU Credit Union accounts will remain unchanged and we can continue to serve you through several other convenient options:
Online Banking
Our free Mobile Banking app, including Mobile Deposit, for Android, Apple and Kindle Fire smartphone and tablet users
Free IU Credit Union account access at CO-OP Shared Branch locations, CO-OP and Alliance One ATMs. At CO-OP Shared Branch locations, you may make deposits, withdrawals, transfers, loan payments, etc. Click on the CO-OP link at the bottom of the homepage (or here) and enter your address for the nearest locations. There are 6 shared branches within 5 miles of the New Albany campus. There are also 10 surcharge-free CO-OP/Alliance One Network ATMs within 5 miles. See below for specific locations.
Apply for loans securely through this website or by phone. Loan payments may be automatically transferred from your IU Credit Union account or another financial institution.
If you have any questions or would like to set up electronic access to your account, please call us at 888-855-MYCU to speak with a member service representative or visit the branch office before July 31.
CO-OP Shared Branch, CO-OP and Alliance One ATM locations within 5 miles of the IU Credit Union New Albany Branch:
Shared Branch and Surcharge-Free ATMs
Other CO-OP Surcharge-Free ATMs
Park Community FCU
4100 Technology Ave
New Albany, IN 47150
Plus Alliance One surcharge-free ATM



1010 Veterans Pkwy
Clarksville, IN 47129
Plus Alliance One surcharge-free ATM

Teachers CU
3105 Grantline Rd
New Albany, IN 47150

One Vision FCU
2441 State St
New Albany, IN 47150
Plus CO-OP/Alliance One surcharge-free ATM

206 W Lewis and Clark Pkwy
Clarksville, IN 47129
Plus CO-OP/Alliance One surcharge-free ATM

3828 Hamburg Pike
Jeffersonville, IN 47103
Plus CO-OP/Alliance One surcharge-free ATM

Centra CU
710 Pillsbury Ln
New Albany, IN 47150



1850 State St.
New Albany, IN 47150

1351 Veterans Pkwy
Clarksville, IN 47129

201 Hunter Station
Sellersburg, IN 47172

2125 Veterans Pkwy
Jeffersonville, IN 47130
A Resource for College Students and Recent Grads
We're not just here to provide a student loan. We want to be your financial partner for life. IU Credit Union has partnered with iGrad to offer you the best financial education tools and resources available so you can make an informed decision about your college financing options. To access this resource, click here; or from our home page, click the Students tab > Student Loans > Visit the Student Lending Center and click on iGrad from the top of the page.
Here are some of the resources you will find:
iGrad TV - video tutorials to help you get ahead financially
Interactive modules - test your financial skills and learn more
Informational articles - everything from college financing to money management
Games - learn about your money in a fun online platform
Calculators - student loans, repayment, and even saving with internet TV
Job Genius - find your ideal job with career search, tools, and resources
Here's an excerpt from their site on avoiding scams:
5 Steps for Avoiding Phone, Email, and Mailed Scams
Shawn Guarniere was startled when she received a call with a recorded message saying it was the Internal Revenue Service. She's a mom of a student at the University of Evansville. She thought some of her information might have been stolen during the FAFSA process. The automated number left a number to call back. She called her accountant instead and realized her tax situation was fine.
The good and bad news? It was a phone scam. She googled the number that had called her and found out that it was a generic call anyone could have received. The message didn't even include her name. If she had called the number back, she could have given out personal information that could have led to having her identity or bank account information stolen.
So what should you do to keep your information from being stolen in a phone or other scam? Start by following these tips.
Never give out information to someone who calls you.
You should never give any information to someone calling you. You don't know who they are. Write down the number and proceed to the next step.


Google numbers you receive calls from.
If it's a known scam, you'll see reports back from other people who received calls from the same number. That's what Shawn did. If you don't see anything online, does this mean it isn't a scam? No. It just means you need to do more research.


Research if there's a chance the information is true.
For instance, if the person claims to be from your bank, find a number for your bank on the bank's official website or on the back of your ATM or credit card. Call those official numbers only. With the IRS, Shawn called her accountant because he handles her tax information they were calling about.
For the rest of the story, click the link below.
http://www.igrad.com/articles/avoiding-phone-scams
IU Credit Union MasterCard Secured Platinum Credit Card