Financial Education at Edgewood High School
Posted: June 17, 2008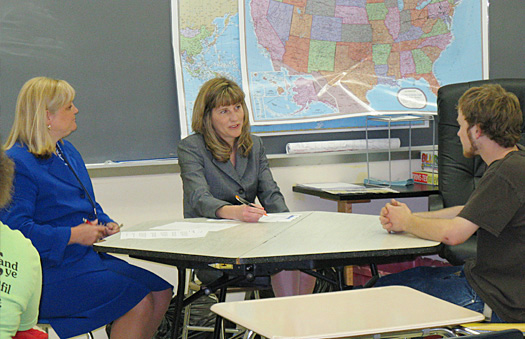 Georgeanna Sims, AVP, Branch Administrator, and Julie Ragsdale, VP & Chief Administrative Officer
conduct a mock job interview with an EHS student after covering the unit on careers.
IU Credit Union is proud to implement the NEFE High School Financial Planning Program in area schools to help promote sound financial planning and money management skills to high school students.
Georgeanna Sims, AVP, Branch Administrator at IUCU volunteered her time throughout the spring semester at Edgewood High School in Ellettsville. She visited Jeff Carmichael's class eight times during the semester to instruct students on core competencies like creating a financial plan, budgeting, saving, investing, and career planning.
Since 1984, the National Endowment for Financial Education has been addressing youth financial literacy with the nationally known NEFE High School Financial Planning Program® (HSFPP). The program consists of a seven unit student manual, instructor's guide, and a dynamic suite of Web pages that offer a large, continually growing collection of resources, articles, and financial tools for teachers, students, and parents. To learn more about the HSFPP, visit http://hsfpp.nefe.org.


---
IU Credit Union Awards High School Scholarships
Posted: June 18, 2008
IUCU recently awarded $11,000 in high school scholarships for the 2008-2009 academic year. Recipients are recently graduated high school seniors who are attending college full-time in the fall. Each winner was awarded a $1,000 scholarship.
Winners include:
Caitlin Kinser
Bedford North Lawrence High School
University of Notre Dame
Elizabeth Munroe
Bloomington High School North
Columbia University
Anne Cavanagh
Bloomington High School South
Indiana University
Courtney Van Winkle
Brown County High School
Indiana University
Daniel Wilson
Eastern Greene High School
Purdue University
Nicole Samuelson
Edgewood High School
Purdue University
Blake Faulkner
Lighthouse Christian Academy
Hillsdale College
Andrew Janssen
Martinsville High School
Concordia University
Marisa Arthur
Owen Valley High School
Indiana University
Elizabeth Kackowski
Brownsburg High School
Indiana University

Brent Plummer
New Castle Chrysler High School
Indiana University
---