IUCU Employees "Live United"
Posted: November 14, 2013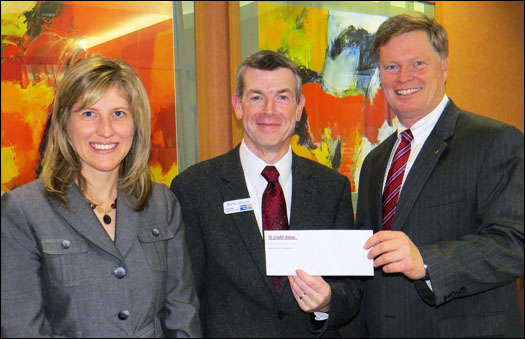 IU Credit Union employees pledged $19,269 to help create a better tomorrow in support of the 2013 - 2014 United Way Campaign. The Credit Union is matching the employee pledge with an even $20,000 for a total United Way contribution of $39,269!
Barry Lessow, Executive Director at United Way of Monroe County, accepts the IU Credit Union donation from Bryan Price, IU Credit Union President & CEO and Vice President & Chief Administrative Officer, Julie Ragsdale. The United Way of Monroe County serves Monroe, Owen and Greene counties. To find out more, visit www.monroeunitedway.org.
IUCU Counts Cash for Salvation Army
Posted: November 14, 2013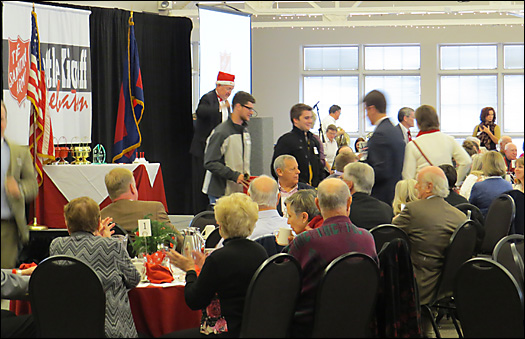 On Tuesday, November 11, IU Credit Union assisted the Salvation Army with their annual Kettle Kickoff Campaign. The luncheon, held at the Bloomington Convention Center, celebrated the start of the Bell Ringing season by inviting community leaders and local businesses to participate in a dash for cash.
All funds collected during the five minute dash were quickly counted by 15 IU Credit Union employees to determine which team collected the most money. A total of $19,426 was collected during the event—a great start for the yearly tradition!
IU Credit Union is committed to community growth and provides benefits to many local charities. IU Credit Union has served as counters during each of the past annual Kettle Kickoffs.
For more information about Salvation Army visit http://bloomington.salvationarmyindiana.org or contact the office at 111 N Rogers St.
Older Entries »