Employee Giving: United Way 2009
Posted: November 25, 2009
During this year's United Way workplace campaign, 73 employees pledged more than $17,000 in donations. IU Credit Union will provide a match of this amount dollar-for-dollar. Despite the economy, this year's campaign was the largest United Way campaign total in the Credit Union's history.
During the pledge drive, IU Credit Employees were challenged to write an essay on how they "Live United". Member Service Support Representative, Sandy Tinsley, was selected as the winner of the Live United Essay Contest. Sandy shared her story of how she helps her community: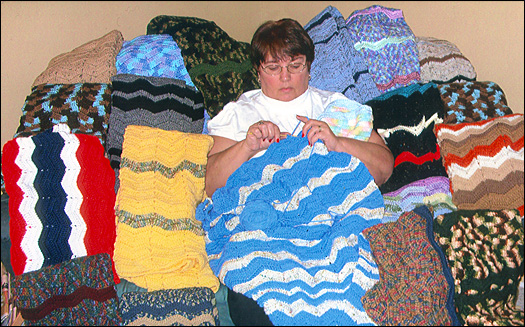 IU Credit Union employee, Sandy Tinsley graciously donated her time and talents to crochet 20 blankets for U.S. Veterans.
"On a cold day in October of 2008, I noticed a gentleman in a wheel chair. He had an old dirty blanket wrapped around his legs and lap to keep warm. I told my husband I wanted to do something to help those in need, like our Veterans. I spoke with an officer of the Amvets here in Bloomington to see if they had a program or knew of a place I could make lap blankets. I made it my goal to crochet 20 blankets before Christmas of 2009. I have one blanket to complete and I have met my goal of 20. The blankets will go to Indianapolis and here in Bloomington to our veterans. It's something that fills my heart with warmth and I'm glad I can do this."
We are proud of our employees generosity and community involvment. Because of these donations, people in need will receive sufficient food, health care and a safe place to live. Local children and seniors will have the opportunity to participate in activities that might otherwise be unaffordable, and neighbors will find employment and opportunity.
American Cancer Society's Charity Run at the Chicago Marathon
Posted: November 25, 2009
On Sunday, October 11th, runners from all 50 states and more than 100 countries set out from Grant Park to accomplish a personal dream. The Chicago Marathon is a 26.2 mile pinnacle of achievement for elite athletes and everyday runners alike. Out of 33,695 finishers, IU Credit Union's very own Brandyn Cloyd, finished overall in an extraordinary 7,847th place with a time of 3 hours and 48 minutes!
Brandyn joined the American Cancer Society's Charity Runner program, turning his passion for running into an effort to fight cancer and making every mile more meaningful. He is motivated by the affect cancer has had on people in his life. Each runner in the program must raise at least $1,000 to run, but Brandyn well surpassed that – he raised $3,050. "If I could save one life for every 26.2 miles I run, then I wouldn't ever stop. I would sleep, eat, run and repeat," he said.
The Chicago Marathon was Brandyn's second, having run in the Notre Dame Marathon in June. He plans to run in 50 marathons – one in every state. Two down, forty-eight to go! California is the next stop - he's running in one with his sister next year in San Diego, then one in South Carolina where his parents live.
Way to go, Brandyn. You're THE MAN, a lifesaver and a shining example of determination!
IU Credit Union Helps Salvation Army Kick Off 3rd Annual Kettle Campaign
Posted: November 19, 2009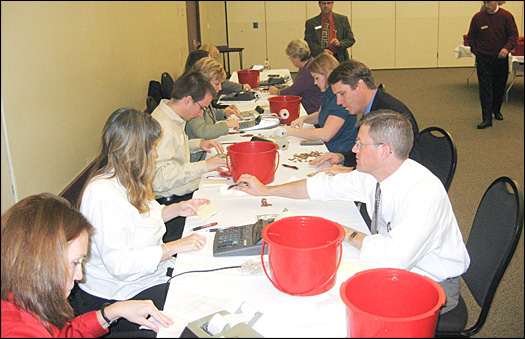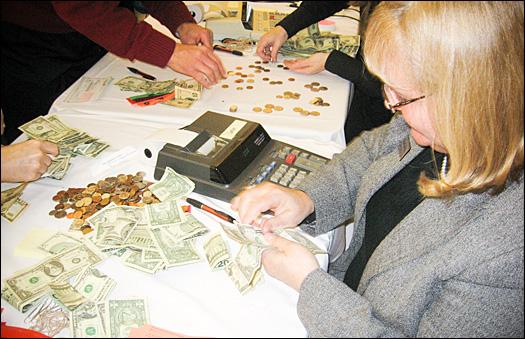 IU Credit Union volunteers count over $41,000 in cash that was dashed for at the 2009 Salvation Army Kettle Kickoff Luncheon held on Thursday, November 19th.
The Salvation Army kicked-off its third annual kettle campaign at the convention center on Thursday, November 19, with its "Dash for Cash." Twelve teams of two had seven minutes to hit up the crowd of attendees for donations. The teams ran around the luncheon tables with red buckets and bells to the tune of holiday music. The idea for the dash was originally suggested by Salvation Army advisory board member, as well as IUCU board member, Don Weaver. Sixteen volunteers from IU Credit Union counted the amounts from each team and reported a total of more than $41,000 in donations. This money and thousands more the Salvation Army will raise this season will go to help local families in need of food, clothing, day care, home visits, and Christmas gifts.
For more information about Salvation Army visit http://bloomington.salvationarmyindiana.org or contact the office at 111 N Rogers St.
IU Credit Union Roots for the Home Team
Posted: November 6, 2009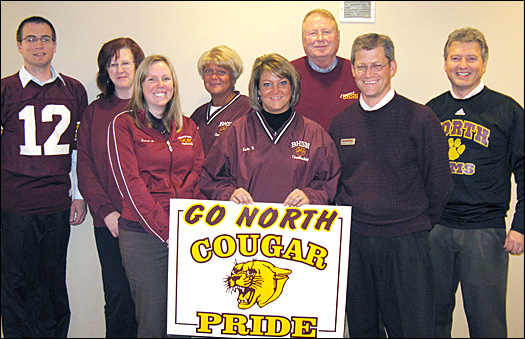 IU Credit Union employees dress in maroon and gold to support the BHSN football team as they compete for the sectional title on Friday, November 6th.
IU Credit Union employees enjoyed a "Spirit Day" on Friday, November 6, showing support for the Bloomington High School North football team by wearing maroon and gold.
Bloomington High School North will play for the sectional title Friday night, November 6. We wish all of the coaches and players the best of luck as they take on Center Grove. Go Cougars!