One Good Thing Leads to Another
Posted: November 7, 2007
We're celebrating over 50 years of giving back to the community with the kickoff of our United Way workplace campaign and an opportunity for you to win a $1,000 charitable donation in your name. What would you do for your community with $1,000? We want to know what community efforts you are passionate about. Tell us what cause you're supporting to make the community better (in 500 words or less) by November 30, 2007 and you'll be in the running to win a $1,000 donation to the community-based organization of your choice with our "Create Lasting Change" essay contest. Submit your entry, along with your name, address, and phone number, to marketing@iucu.org.
"create lasting change" essay contest rules
To be eligible for the $1,000, the community organization or community project must be affiliated with a legitimate nonprofit organization or agency that supports a community need. Requests for donations to a single individual or individual's family will not be eligible for entry. IU Credit Union reserves the right to review the credentials of the organization or community project submitted. Volunteers and employees of IU Credit Union are not eligible.
Employee Giving: United Way 2008
Posted: November 7, 2007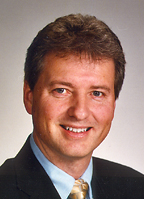 Kevin Osborne
Kevin Osborne, Business Development Officer for IU Credit Union, proudly serves as a Monroe County United Way campaign chair for the second consecutive year. "IUCU employees embrace the spirit of giving in their generosity to the United Way", says Osborne. In recognition of employee generosity, the Credit Union provides a dollar-for-dollar match. The workplace campaign will take place November 12 through November 16 and will include employee visits to PALS (People & Animal Learning Services), Shalom Community Center, Monroe County United Ministries, and Boys and Girls Club of Bloomington. Employees in over 10 counties participate in the campaign.
7 United Way Goals:
Everyone should have sufficient food
Everyone should have a safe place to live
Everyone should have access to basic health care
People in crisis should have access to emergency services
Children & youth should have the opportunity to grow and prosper
Everyone should have the skills and support to enter and stay in the work force
Seniors should be supported in their efforts to be independent
We've Got Spirit, Yes We Do
Posted: November 7, 2007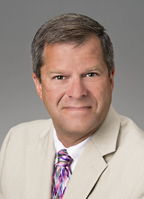 Jim Spore
IU Credit Union captured the YMCA 2007 Corporate Challenge Team Spirit Award. Jim Spore, IU Credit Union Investment Services Financial Advisor, fearlessly led 85 employees through 21 challenging events. The team spirit award goes to only one team, regardless of size. Selection criteria includes teamwork, dedication, and organizational support of teams and the corporate challenge as a whole.
IU Credit Union Receives Franklin Initiative Award for Volunteerism
Posted: November 7, 2007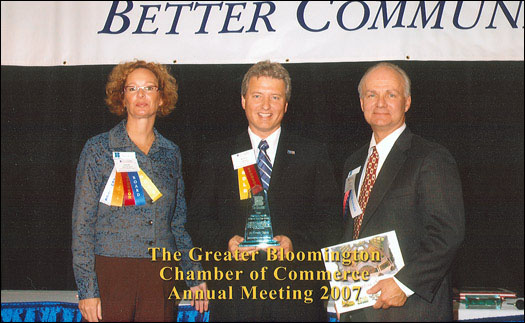 On Wednesday, September 26, the Greater Bloomington Chamber of Commerce held its Annual Meeting and Community Awards celebration to honor individuals, businesses, and organizations for their contributions to our community. IU Credit Union was awarded The Franklin Initiative Volunteer Award for demonstrating exemplary service and dedication to Monroe County youth through volunteer participation in our local schools. Kevin Osborne, Business Development Officer, proudly accepted the award on behalf of IUCU.
The Franklin Initiative Volunteer Award recognizes volunteers who are the backbone of the Chamber's Franklin Initiative, a unique program designed to promote career awareness and help students develop the skills necessary to succeed. IU Credit Union employees have actively participated in Reality Stores for middle school students to help them appreciate the "realities" of life and understand personal finance. Prior to the activity, each student decides how far they wish to pursue their educational career. Based on the highest education level each student wishes to earn, their teachers provide them with the average salary of a 28-year-old working with that degree. The students then visit various stations staffed by volunteers to determine how they can spend their salaries and make ends meet. This is an enlightening opportunity for students that encourages them to start thinking about their choice of career and how their education plays a part in their future.
IUCU Helps IU Volleyball "Dig For the Cure"
Posted: November 7, 2007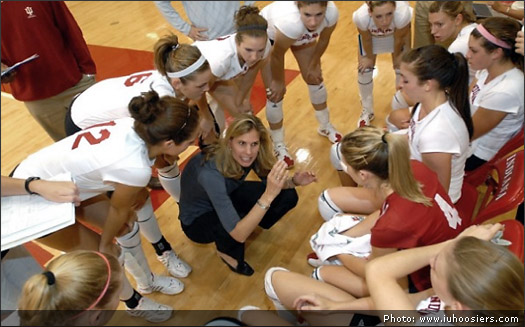 In honor of October being Breast Cancer Awareness month, the IU Volleyball team participated in "Dig for the Cure" when it hosted Wisconsin on October 26 at University Gym.
The "Dig for the Cure" campaign was originally started in 2003 by former Charlotte head coach Lisa Marston and has since spread to volleyball programs across the country. Indiana is one of more than 50 schools participating during the 2007 season.
Indiana Volleyball's "Dig for the Cure" campaign benefitted the Susan G. Komen for the Cure Wabash Valley Affiliate. IU Credit Union joined the team in the fight against breast cancer, along with other sponsors - TIS Bookstore, Bucceto's Pizza and Pasta, and Chartwell's Concessions. IUCU donated $5 for every dig made by an IU player. Pink "Dig for the Cure" t-shirts, courtesy of the sponsors, were also available for purchase at $5 each. Overall, the event raised over $1,100 from t-shirt sales and donations. All proceeds went directly to the Wabash Valley Affiliate.
About Susan G. Komen for the Cure
Nancy Goodman Brinker founded Komen in 1982 to honor the memory of her sister, Susan G. Komen, who died from breast cancer at the age of 36. Today the Foundation is an international organization with a network of over 75,000 volunteers working through local affiliates.
In 1999, the Wabash Valley Affiliate of the Susan G. Komen Breast Cancer Foundation was established to create a year-round presence in the Wabash Valley. For 25 years, Komen for the Cure has led our nation's charge in the fight against breast cancer. For more information about the Susan G. Komen Wabash Valley Affiliate go to www.komenwabashvalley.org.
About Community Matters
Posted: November 7, 2007
Community matters. In fact, it matters a great deal to IU Credit Union since serving our community is at the heart of what we do. Community is not a buzzword or a feel good word for us. It's about what we do as individuals and as an organization to show what is important. We're passionate about the communities we serve, particularly in the areas of education and financial literacy.
We invite you to visit our website often to see firsthand the community matters the IU Credit Union participates in. We hope this site will serve as a resource about what is happening at IU Credit Union, community outreach initiatives, special promotions, and informative articles to help you make wise financial decisions.