Money 101
Posted: October 24, 2012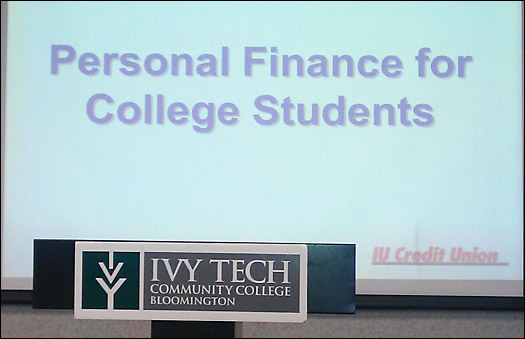 IU Credit Union recently visited Ivy Tech, Bloomington to host a Personal Finance for College Students seminar. In this interactive session, students gained insight on determining wants and needs, money saving strategies, student loans and building good credit.
IU Credit Union is available to present financial education seminars to your classroom or group. Please email your request to marketing@iucu.org.
Coats for Kids!
Posted: October 24, 2012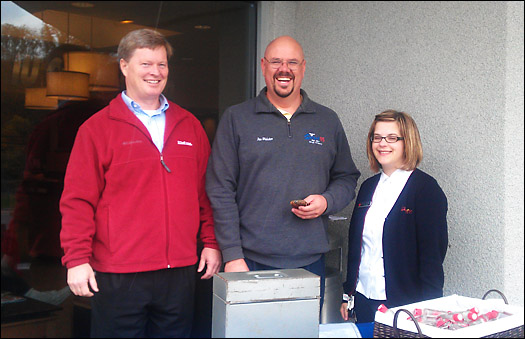 Again this year, IU Credit Union is collecting coats, mittens, gloves and scarves through the efforts of Spirit 95 radio and the Salvation Army. Collection boxes will be at all Bloomington area IUCU branches through December 15. All items collected are distributed locally through the Salvation Army.
IU Credit Union President, Bryan Price, along with representatives from Spirit 95 and the Salvation Army take a break for a picture during the Spirit 95 live radio broadcast at the Credit Union.
IU Credit Union Visits IU Health Bloomington
Posted: October 24, 2012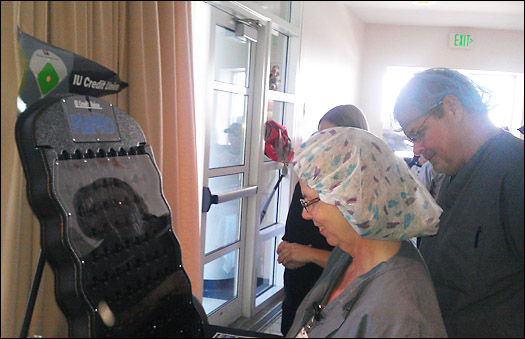 IU Credit Union recently had the privilege of participating in the Indiana University Health, Bloomington Employee Benefits Fair. Hundreds of IU Health employees visited the IUCU booth for a fun game of Plinko, prizes and information on the Credit Union's products and services. For the convenience of employees and visitors, there is an IU Credit Union ATM located near the hospital's main elevators.
If your business would like IU Credit Union to participate in your employee benefits event, please email your request to marketing@iucu.org.
International Credit Union Day, "Members Matter Most"
Posted: October 18, 2012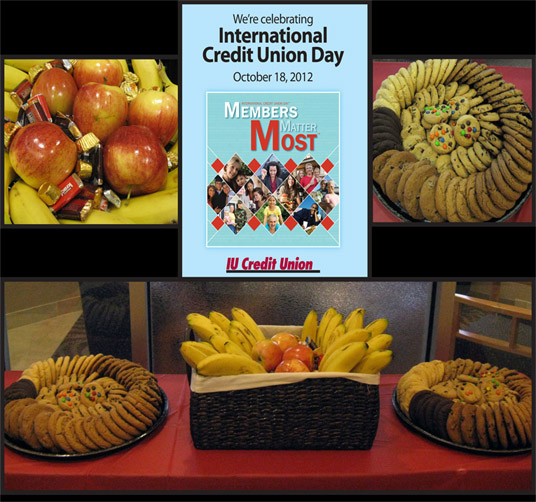 On Thursday, October 18, IU Credit Union proudly joined financial cooperatives around the world in celebrating International Credit Union Day. This day pays tribute to the credit union difference and recognizes the contributions that credit unions make every day to the improve the lives of individuals, families, and communities around the world.
As has long been our tradition on International Credit Union Day, each IUCU branch served trays of cookies and fruit to members, and employees, throughout the day. Thank you for being a member of IU Credit Union, we appreciate your membership!
Money Smart Week
Posted: October 18, 2012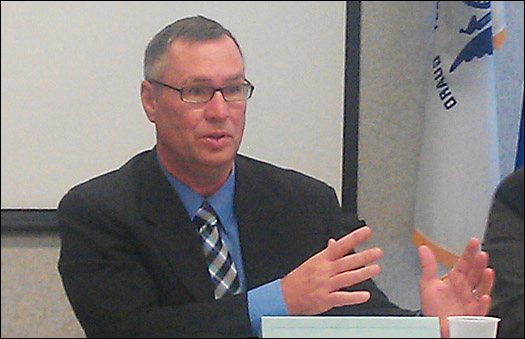 From October 5th-12th, the Financial Stability Alliance for South Central Indiana, led by United Way, hosted the third Money Smart Week in collaboration with the Monroe County Public Library.
IUCU Lending Center Representative, Dennis Crowe, served as an expert panelist during the Credit Counseling session held at Ivy Tech. Crowe shared his expertise in the areas of building and maintaining a solid credit rating.
Money Smart Week is a national campaign that helps consumers better manage their personal finances. During the week-long event, local partners host a series of free classes and activities. The Financial Stability Alliance sponsors both Monroe County's Money Smart Week in October and Indiana Money Smart Week in April.
Older Entries »