IUCU Rocks Camp Rock Scholarships
Posted: September 24, 2008

IU Credit Union continues to support the Boys & Girls Clubs of Bloomington by providing Camp Rock Scholarships. Through camp scholarships, the Boys & Girls Clubs of Bloomington are able to provide an area child with an opportunity to participate in camp that would normally be out of their family's financial needs.
Camp Rock daily theme-base activities include exciting field trips, cookouts, swimming, canoeing, arts and crafts and more age-appropriate fun!
For information on the Boys & Girls Clubs of Bloomington, visit www.bgcbloomington.org.
IUCU Offers Seminar on Identity Protection
Posted: September 24, 2008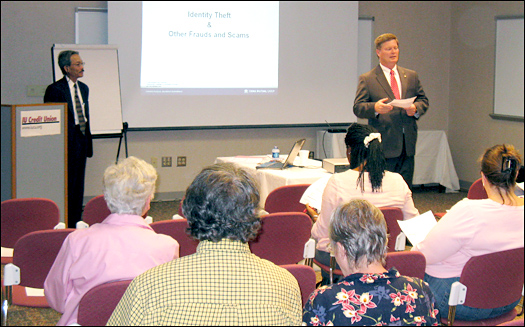 President & CEO, Bryan Price introduces Speaker, Ken Otsuka of CUNA Mutual Group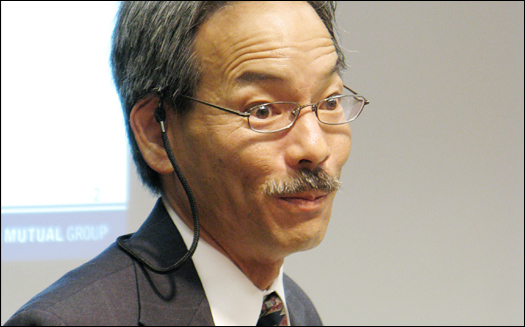 Ken Otsuka explains just how easy it is for someone to steal an identity.
On Tuesday, September 23rd, IU Credit Union offered a free public seminar called "Protecting your Identity." Attendees learned about recent scams, how identity theft occurs, how to protect themselves from becoming victims of identity theft, and steps to follow if they become a victim of identity theft.
Presenting was Ken Otsuka, Risk Manager-Product Expert in the Credit Union Protection Risk Management Department for CUNA Mutual Group. Ken assists credit unions in identifying areas of risk in their operations, and he recommends best practices to reduce loss exposure. Ken joined Risk Management in 1990 after spending eight years as an auditor at another insurance company. A graduate of Northern Illinois University, Ken earned a Bachelor's Degree in accounting. He received a Certified Public Accountant (CPA) designation in 1982.
Older Entries »