"Creating Lasting Change" Essay Contest Results
Posted: December 20, 2007
Updated: January 9, 2008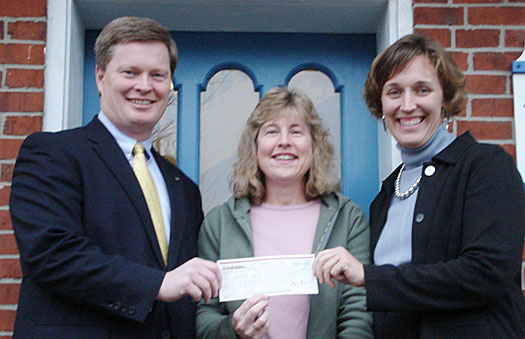 Bryan Price, President & CEO of IU Credit Union, presents Karen Peterson-Taylor, Create Lasting Change
Essay Contest Winner and Kerry Thomson, Habitat for Humanity of Monroe County Executive Director,
a check for $1,000, to be donated in Karen's name for the Habitat for Humanity of Monroe County.
Thank you for participating in our "Creating Lasting Change" essay contest. We received several heart-warming essays, including ones on behalf of Big Brothers Big Sisters, the Sycamore Land Trust and WildCare Inc. The winner of the essay contest was Karen Peterson-Taylor, who submitted an essay on behalf of the Habitat for Humanity Women's Build that takes place each May.
Karen started volunteering for Habitat because she wanted to show her three children that one person can make a difference in someone else's life. Referring to her first Women's Build, Karen said, "I was going outside my comfort zone, not only asking for donations from family, co-workers and friends, but also by doing something I had never done before-using power tools and building a house." She concluded her essay by stating, "The women of Monroe County can build a house in a week with the support of our community...and the power within."
IU Credit Union will make a $1,000 donation to Habitat for Humanity in Karen's name. Visit this page often to see more IU Credit Union community efforts and future opportunities to Create Lasting Change.


---
"Dash for Cash" Kicks off Salvation Army Kettle Campaign
Posted: December 3, 2007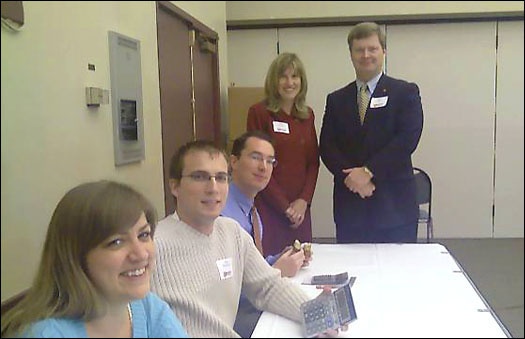 Official Kettle Counters: Katie Smock, Dan Rittichier, Chris Hawk, Julie Ragsdale, Bryan Price
Not Pictured: Karen Earley-Mullis, Kevin Osborne, Jeff Watson
The Salvation Army kicked-off its annual kettle campaign at the convention center on Tuesday, November 26, with its first ever "Dash for Cash." Eleven teams of two had seven minutes to hit up the crowd of 300 attendees for donations. The teams ran around the luncheon tables with red buckets and bells to the tune of holiday music. The idea for the dash was originally suggested by Salvation Army advisory board member, as well as IUCU board member, Don Weaver. Volunteers from IU Credit Union counted the amounts from each team and reported a total of $20,000 in donations. This money and thousands more the Salvation Army will raise this season will go to help local families in need of food, clothing, day care, home visits, and Christmas gifts.


---