IU Credit Union Awards Scholarships
Posted: April 4, 2013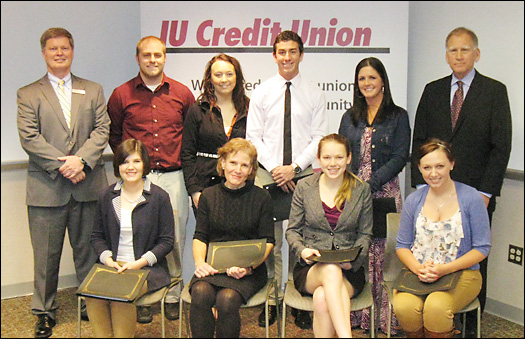 Back row, left to right: IUCU President & CEO, Bryan Price, Anthony Hinz, Destiny Ranard, Patrick Hernandez,
Casey Brooks, and IUCU Board Member, John Whikehart

Front row, left to right: Emily Garl, Maria Lopez, Megan Jula, and Danielle Burris

Not pictured: Alexandra Toledo, Rachel Mosley, and Jennifer Naylor
IU Credit Union awarded $19,950 in Continuing Student Scholarships for the 2013-2014 academic year at the Credit Union's annual meeting on Wednesday, March 27.
Winners from Indiana University include:
Undergraduate
• Danielle Burris, Neuroscience & Psychology
• Patrick Hernandez, International Studies/Spanish & Envrionmental Studies
• Megan Jula, Journalism
Graduate Full-time
• Emily A. Garl, M.S. Speech-Language Pathology
• Alexandra Toledo, MPA Nonprofit Management & MA Latin American Studies
• Anthony Hinz, Counseling & Counseling Education
Graduate Part-time
• Maria Lopes, Adult Education
Winners from Ivy Tech Community College include:
Full-time
• Rachel Mosley, Health Care Support
• Casey Brooks, Radiology & Sonography
• Destiny Ranard, Nursing & Physical Therapy
Part-time
• Jennifer Naylor, Occupational Therapy
Congratulations to all recipients!
If you would like to learn more about the scholarships we offer, please visit our scholarships page or give us a call at 812-855-7823 or toll-free 888-855-MYCU (6928).
---